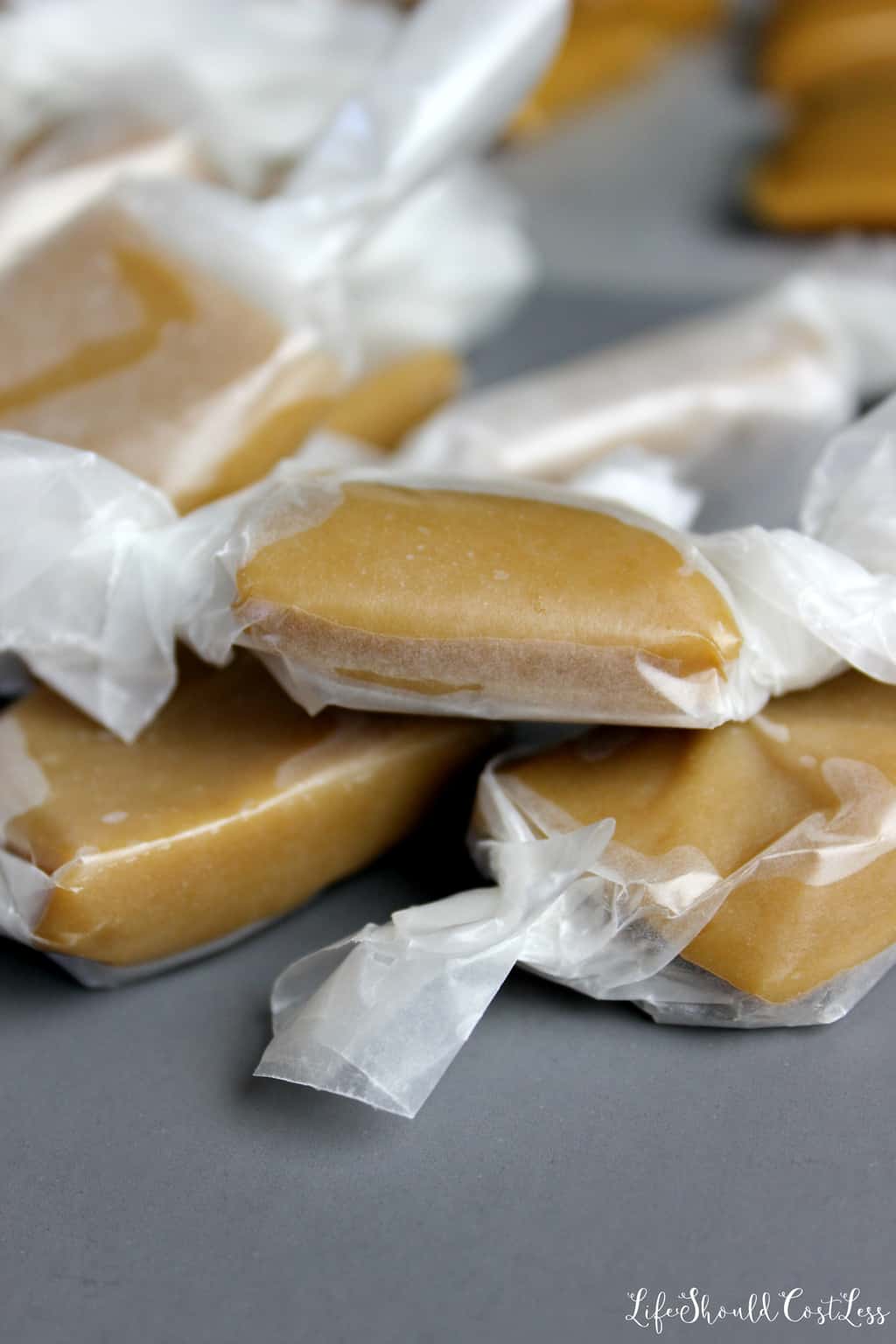 Old Fashioned Pioneer Caramel Recipe
Author: LifeShouldCostLess.com
Prep time: 20 mins
Cook time: 15 mins
Total time: 35 mins
1 Cup Butter
1 Cup Butter
2 & ¼ Cups Brown Sugar
2 & ¼ Cups Brown Sugar
1 Cup Light Corn Syrup
1 Cup Light Corn Syrup
1 Can Sweetened Condensed Milk
1 Can Sweetened Condensed Milk
2 T Vanilla Extract
I a medium to large sized sauce pot add the Butter, Brown Sugar, and Corn Syrup.
Stir together on low heat until the Butter has melted.
Add the Sweetened Condensed Milk and stir well.
Bring the mixture to boiling point over medium heat.
Stir constantly until Caramel reaches your desired ball stage (see notes, wrapped caramels need to be at hard-ball stage).
Remove from heat, add the Vanilla extract, and stir well.
Pour into a buttered (cooking spray works too) 9"x13" glass casserole dish.
Let cool on top of wire rack.
Cut and wrap in waxed paper squares.
This is a very versatile caramel recipe. To use it for caramel or dipping sauce only cook until the sugars have dissolved or slightly longer depending on how thick you want it.

For Caramel Apples and Popcorn bring it to a soft ball stage.

For wrapped candies bring it to hard ball stage.
Recipe by
Life Should Cost Less
at https://lifeshouldcostless.com/old-fashioned-pioneer-caramel-recipe/