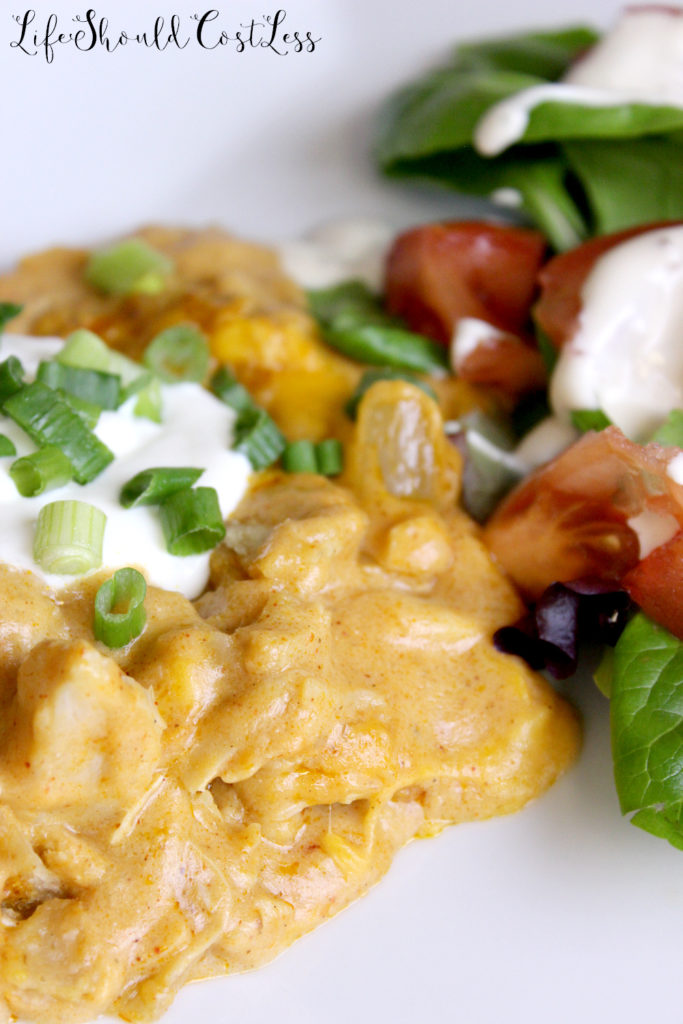 Author: LifeShouldCostLess.com / Teresa
Prep time: 10 mins
Cook time: 65 mins
Total time: 1 hour 15 mins
1 (28 oz) Can Red Enchilada Sauce
1 (1.5 oz) Packet Enchilada Sauce Mix (dry)
1 (16 oz) Tub Sour Cream
1 (26 oz) Can Cream Of Chicken Soup
1 C Chicken Broth
1 T Dried Minced Garlic
½ tsp Salt
1 tsp Pepper
2 (12.5 oz) Cans Chicken (drained)
1 Small Onion (chopped)
1 Bag Tortilla Chips (not family or party size)
2 C Cheddar Cheese (shredded)
Preheat oven to 375 degrees.
In a large bowl combine all ingredients except the chips and shredded cheese. Mix well and set aside.
In an XL greased casserole dish, or 15" Cast Iron Skillet, add the entire bag of chips and crush them slightly, evenly pour chicken mixture over the chips and bake, uncovered, for about 60 minutes depending on the oven. Will know it's done when it bubbles in the center. Remove from oven.
Cover with grated cheese, and return to oven until cheese is melted.
Let cool ten minutes and serve.
This recipe is meant to feed a large family of 7+ but it could easily be halved by buying the smaller cans of cream of chicken and enchilada sauce and then just halving the rest of the ingredients. I would make it in a 9x13" Casserole dish if making a half batch.

If you would like to drain the cans of chicken and use the liquid that you drained, that can be used towards the 1 C chicken broth that is called for in the recipe.
Recipe by
Life Should Cost Less
at https://lifeshouldcostless.com/easy-chicken-taco-pie/