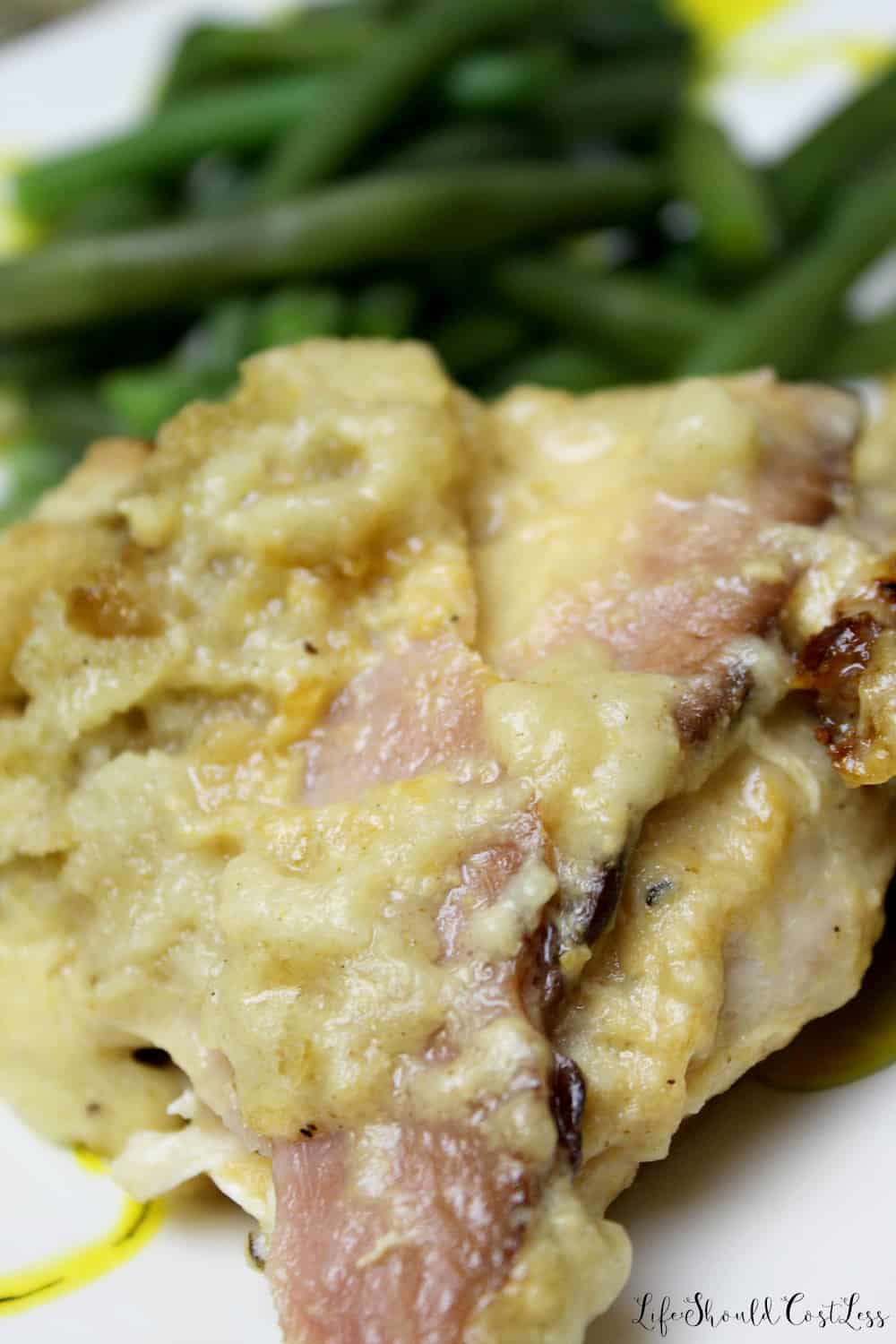 Slow Cooker Chicken Cordon Bleu {Mostly From Scratch}
Author: LifeShouldCostLess.com
Prep time: 20 mins
Cook time: 4 hours
Total time: 4 hours 20 mins
¼ C Salted Butter
¼ C Extra Virgin Olive Oil or Avocado Oil
1 & ½ C Milk
1 C Water
1 tsp Salt
1 tsp Ground Pepper
1 T Chicken Base
Scant ½ C Flour (I use whole wheat)
3-5 Frozen Chicken Breasts
4-6 Pieces Thick Sliced Ham
5-8 Squares Of Sliced Swiss Cheese
6 Oz Seasoned Stuffing Dry Mix (approximately 2.5 cups)
½ C Salted Butter (melted)
In a medium sized saucepan, over medium heat, add the butter, oil, milk, water, salt, pepper, & chicken base. Whisk together and bring to a boil. Once boiling, add the flour, whisk until smooth. Reduce until desired thickness.
Grease a 6 or 7 Quart slow cooker.
Evenly spread half of the sauce mixture into the bottom.
Then layer and spread evenly: chicken, ham, swiss cheese, the rest of the sauce, stuffing mix, and drizzle ½ cup of melted butter over the top.
Cover and set slow cooker on High for 4-5 hours, or Low for 6-7 hours.
Crack the lid for the last half hour of cook time to reduce sauce to desired consistency.
Serve with green salad, or your favorite steamed vegetable.
Recipe by
Life Should Cost Less
at https://lifeshouldcostless.com/slow-cooker-chicken-cordon-bleu-mostly-scratch/