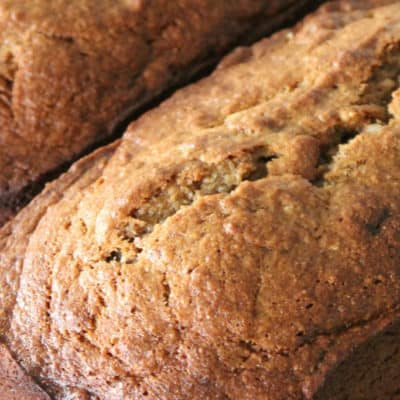 Delicious Spiced Banana Bread
Author: LifeShouldCostLess.com
Prep time: 5 mins
Cook time: 60 mins
Total time: 1 hour 5 mins
1&1/2 C Flour
1 C Sugar
Dash Of Salt
2 T Flax Meal
¾-1 tsp Ground Cinnamon
1/16 tsp Nutmeg (just a smidge)
1 tsp Baking Soda
3-4 Ripe Bananas
¼ C Salted Butter (melted)
1 Egg
½ C Chopped Walnuts
Preheat oven to 350 degrees F.
Grease a standard loaf pan.
Add all ingredients to your mixing bowl except the Walnuts. Mix until well combined.
Then add the Walnuts and mix in.
Pour into greased loaf pan. Spread evenly.
Bake for 55-60 minutes or until a toothpick inserted comes out clean.
Let cool for a few minutes before popping it out of the pan.
Cut and serve. Enjoy!
If you're using large bananas, use 3. If using medium, use 4.

For people that aren't huge fans of spice, I recommend using the smaller amount of cinnamon. Start there and switch it up next time to your desired level of spice.

If you want to switch it to chocolate chip banana bread, just omit the spices and Walnuts and add ½ Cup or so of chocolate chips.
Recipe by
Life Should Cost Less
at https://lifeshouldcostless.com/delicious-spiced-banana-bread/