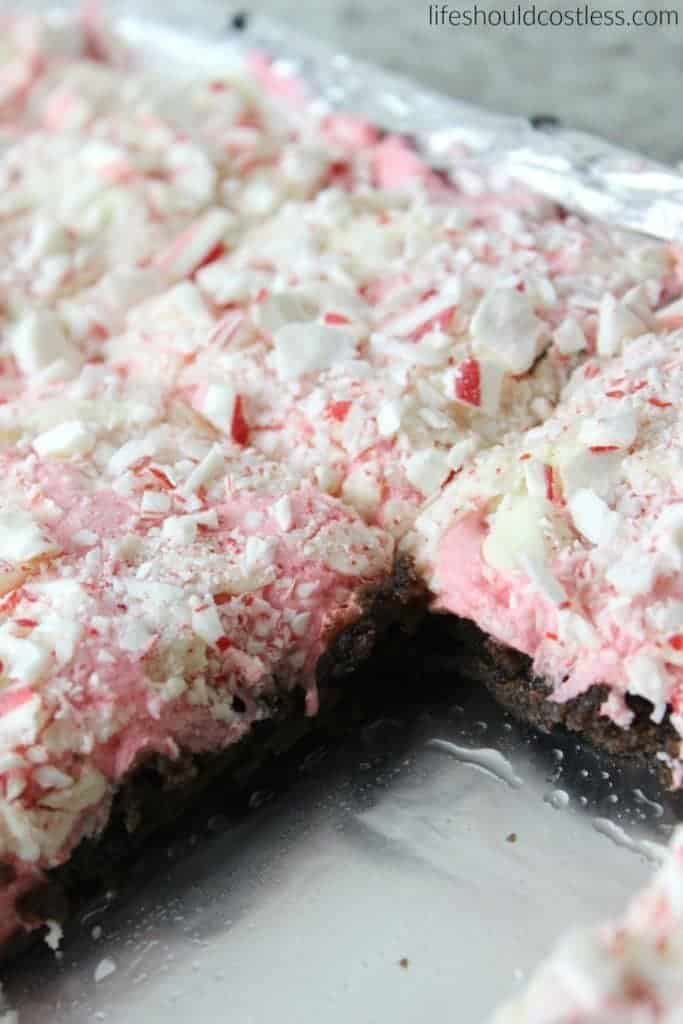 Peppermint Marshmallow Brownies
Author: LifeShouldCostLess.com
Prep time: 10 mins
Cook time: 25 mins
Total time: 35 mins
3 Boxes Brownie Mix
1 (10 oz) Package of Mini Peppermint Marshmallows
2 Cups White Chocolate Chips
10-11 Peppermint Candy Canes (crushed)
Preheat oven to 350 degrees.
Line a half sheet pan (cookie sheet) with non-stick foil and set aside.
In a large mixing bowl (about 4 quarts in size) add the three packages of brownie mix and prepare them as directed on the box adding the eggs, water, and oil. Mix until just mixed, do not over mix. Spread evenly into the lined half sheet pan.
Bake for 25 minutes or until a toothpick comes out clean in the center. When done, remove from oven and immediately spread the Peppermint Marshmallows over the brownies. Return to oven for two minutes (just to soften, do not brown). Remove from oven and spread the marshmallow.
Next, sprinkle the white chocolate chips over the marshmallows and return to the oven for one minute. Remove from oven and spread the melted white chocolate.
While still warm, sprinkle the crushed candy canes evenly over the white chocolate. Let cool on a wire rack and then cut into bars and serve.
It saves time to unwrap and crush the candy canes while the brownies are baking so that they are ready to go when you need them.
Recipe by
Life Should Cost Less
at https://lifeshouldcostless.com/peppermint-marshmallow-brownies/