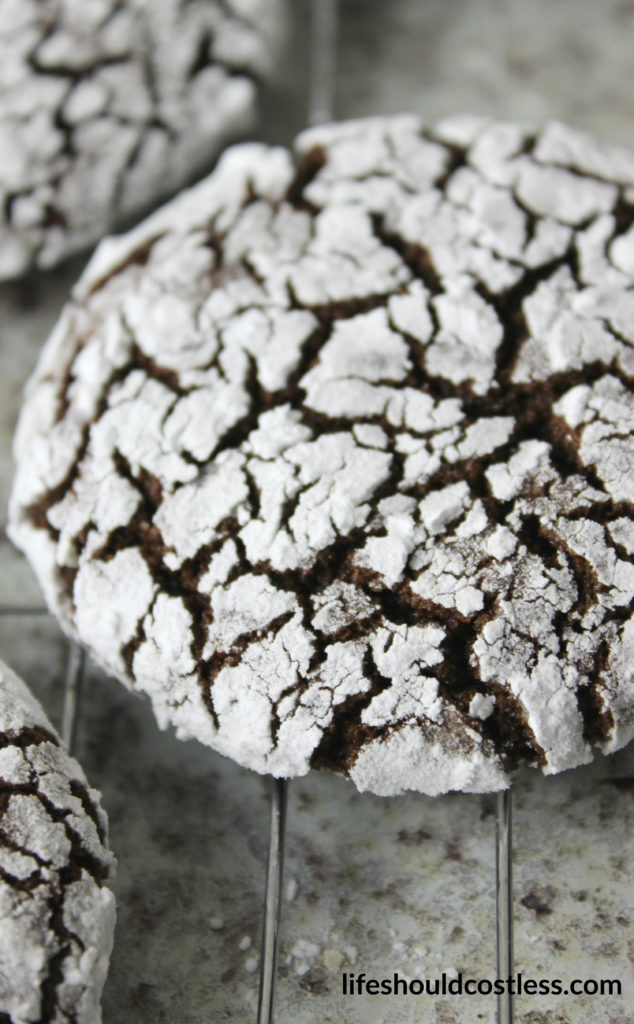 Spicy Chocolate Crinkle Cookies
Author: LifeShouldCostLess.com
Prep time: 65 mins
Cook time: 8 mins
Total time: 1 hour 13 mins
2 C Flour
¼ tsp Salt
½ tsp Cinnamon
*½ tsp Cayenne Pepper
¾ C Vegetable Oil
3 Eggs
2 tsp Vanilla Extract
¾ C Cocoa Powder
2 tsp Baking Powder
1 & ½ C Sugar
(Powdered Sugar for rolling)
In a large mixing bowl add the flour, salt, cinnamon, and cayenne. Mix until well blended. Then add the remaining ingredients (minus the powdered sugar) and mix well.
Cover and chill for one to two hours. Preheat oven to 350 degrees F. Roll chilled dough into balls, flatten a bit, and cover in powdered sugar. Place on parchment paper lined baking sheet and bake for 8-10 minutes. Remove from oven, let rest on baking sheet for two minutes, then move to cooling rack.
* You can adjust the Cayenne as needed. It is currently spicy enough to have a bit of a kick, but still tame enough that my small kids enjoy them.

Cookies may take a little longer to bake depending on how large you made them.
Recipe by
Life Should Cost Less
at https://lifeshouldcostless.com/hot-chocolate-crinkles/