After (getting spoiled) growing up on a huge chunk of property down a dirt road, I've really struggled with feeling like I don't have any type of privacy being much closer quartered. So, when we bought our new place I was not super happy about the bathrooms having plain, you can see anything and everything through them, windows. I'm too cheap to replace them though, especially since they are perfectly good windows, so I decided that I needed to find a way to "take care of them".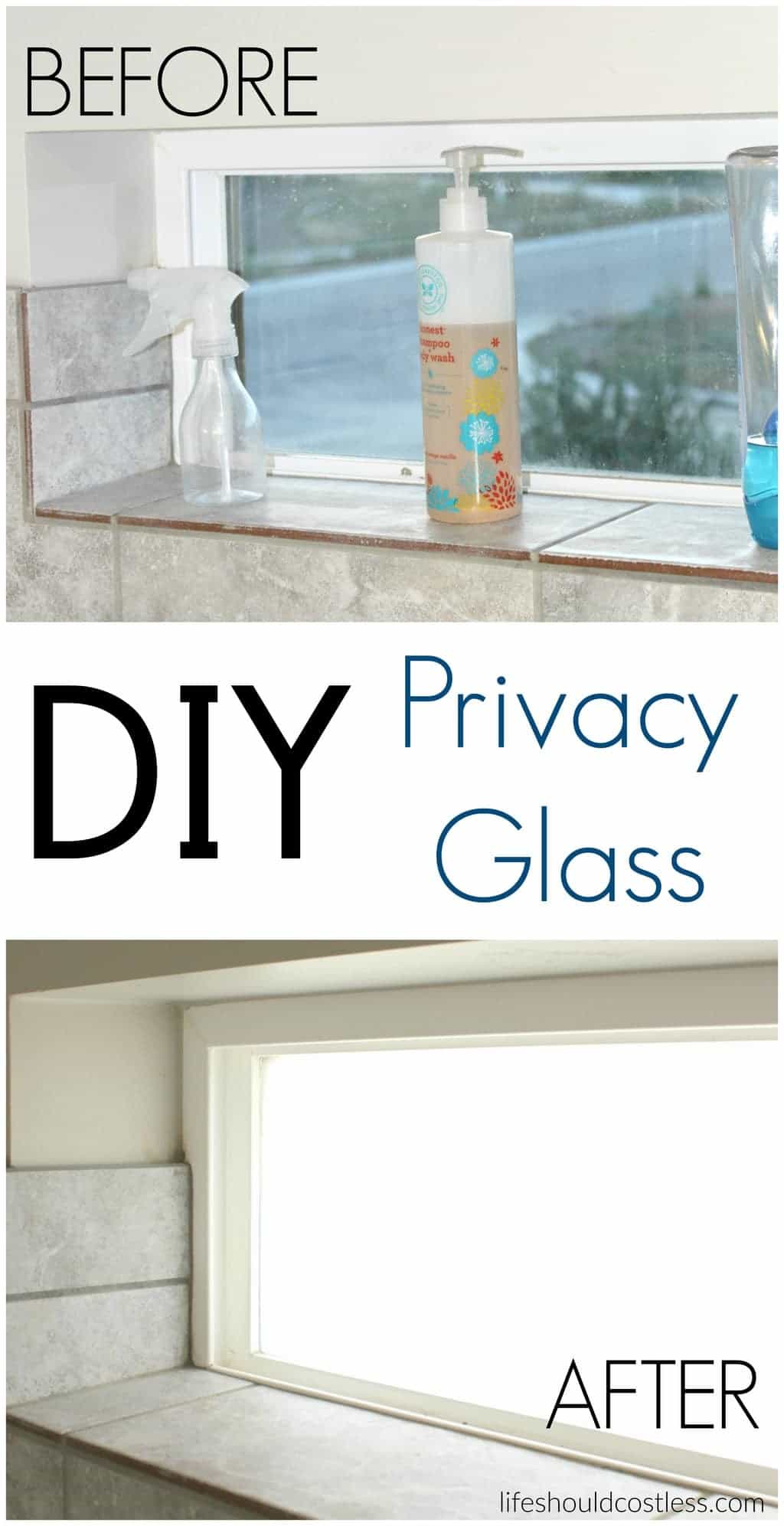 As luck would have it, I found the answer while browsing through the spray paint section at Hobby Lobby.  But when I thought about it, I wondered if the solution could really be that easy (and cheap)???  I figured that it was worth it to me to spend the money, less than $10 for one can, to see if it would work, otherwise we really would need to go the expensive route and replace the windows… So, I'm going to show you what I did and what products I used and then also give a little advice on the project.  Here is the before pic, it was starting to get dark outside, but you can clearly see the street and our jungle of weeds we have going on next to the sidewalk…don't judge me ;).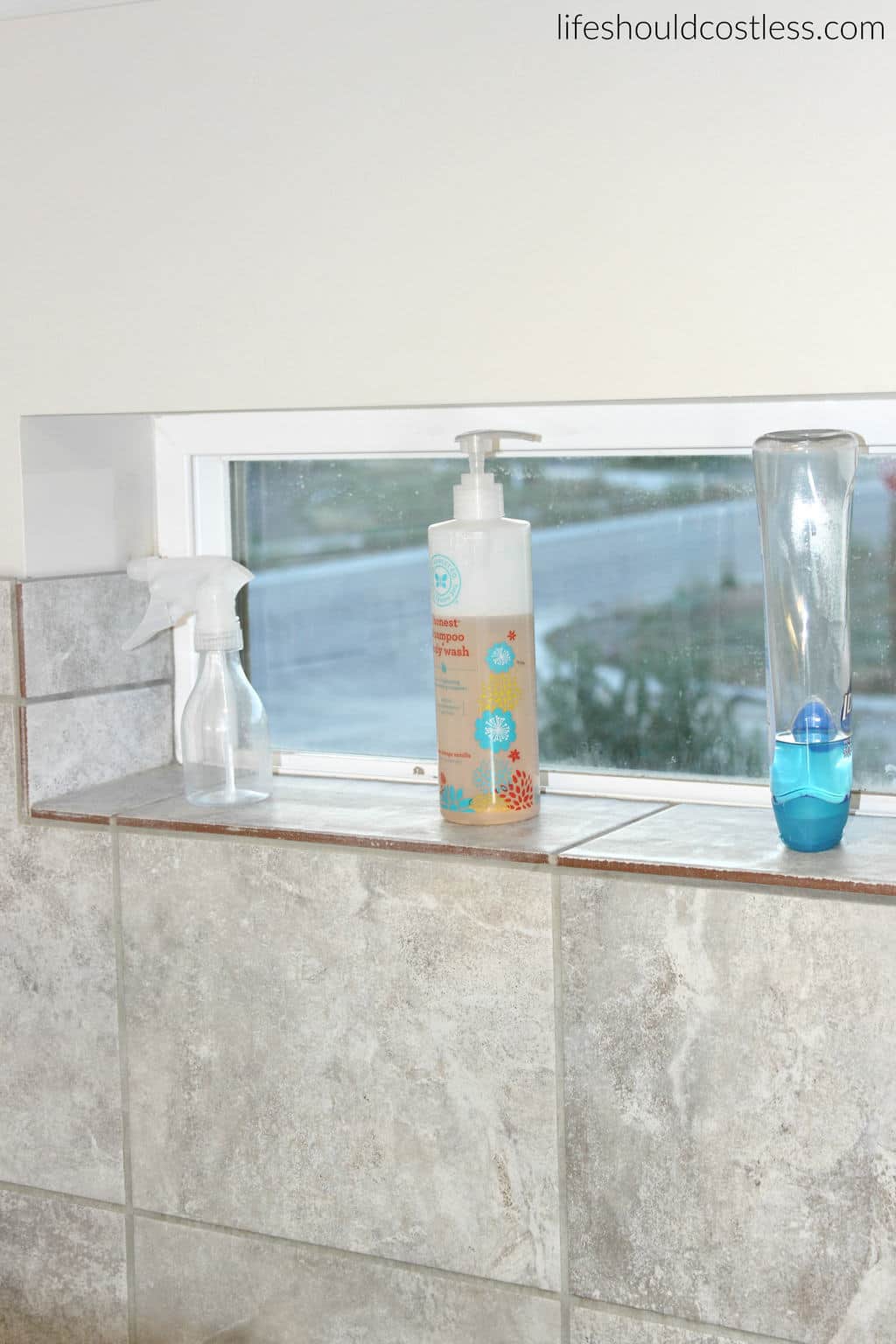 The first thing I did was to wash the wall and window, and any areas that I needed the tape to stick, really well. It's basically for the same reasoning as in my previous post,
The Easy Way To Get A Crisp Line With Painter's Tape
, it needs to be able to adhere to all of the surface. That will give you the most professional looking results. Anyway,
I used this kind of tape
, and
taped around the window frame and any non-glass parts
. Boy did that feel weird, pretty much every other project I've ever done has you covering the windows so it felt pretty backwards.
Then I used some masking paper
,
you can find it here
, 
to go up and around the wall so that there would be no cast-off
or woopsies from the spray can. I was more than a little worried about that, but didn't have a single problem because I was careful and took the necessary precautions.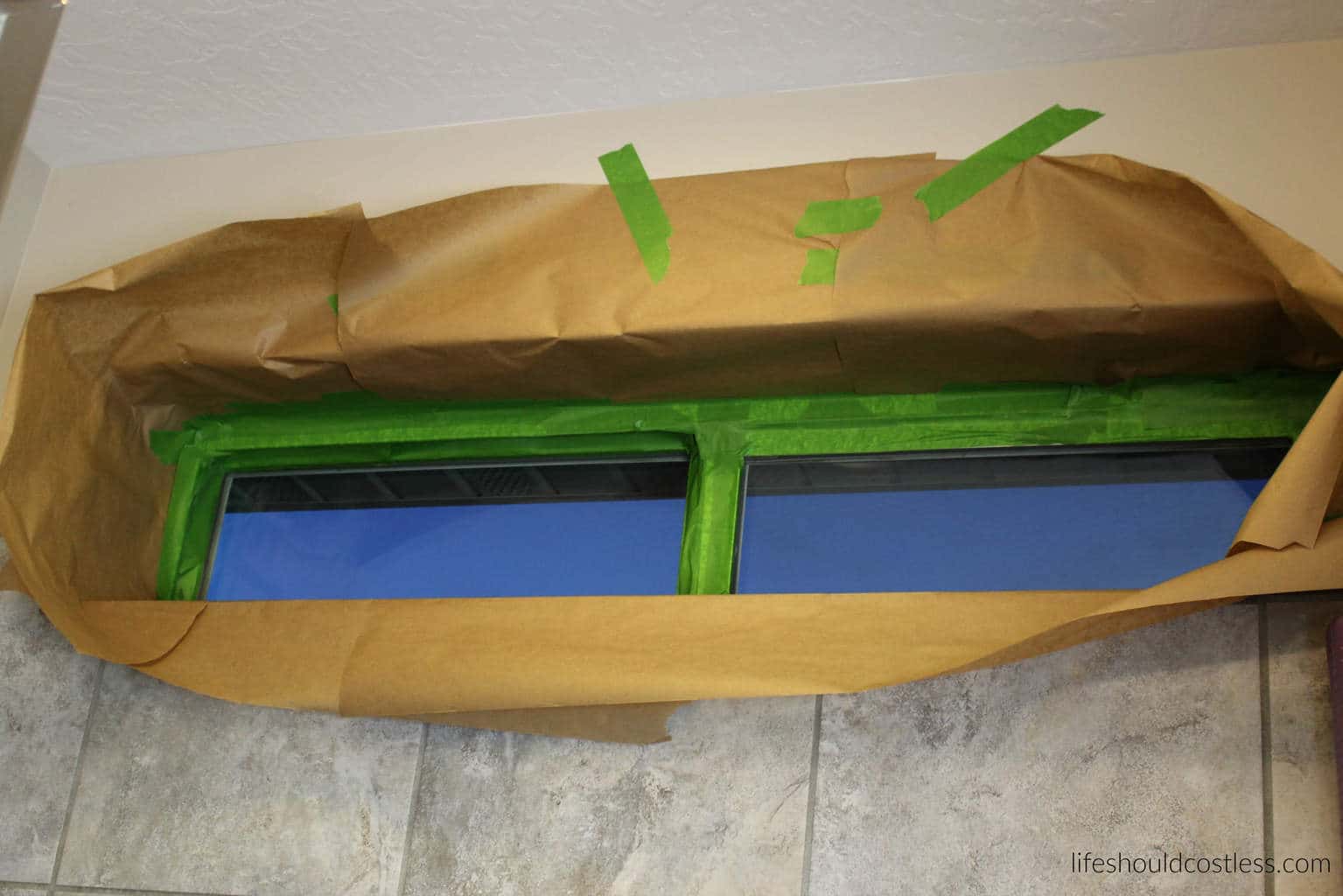 Below is a picture of the product that I used. It's called Krylon Frosted Glass Finish. I couldn't find the exact product on Amazon, but just remember that I said I found it while browsing through  the spray paint section at Hobby Lobby. I would also check Lowe's or Home Depot if you don't have a Hobby Lobby anywhere near you.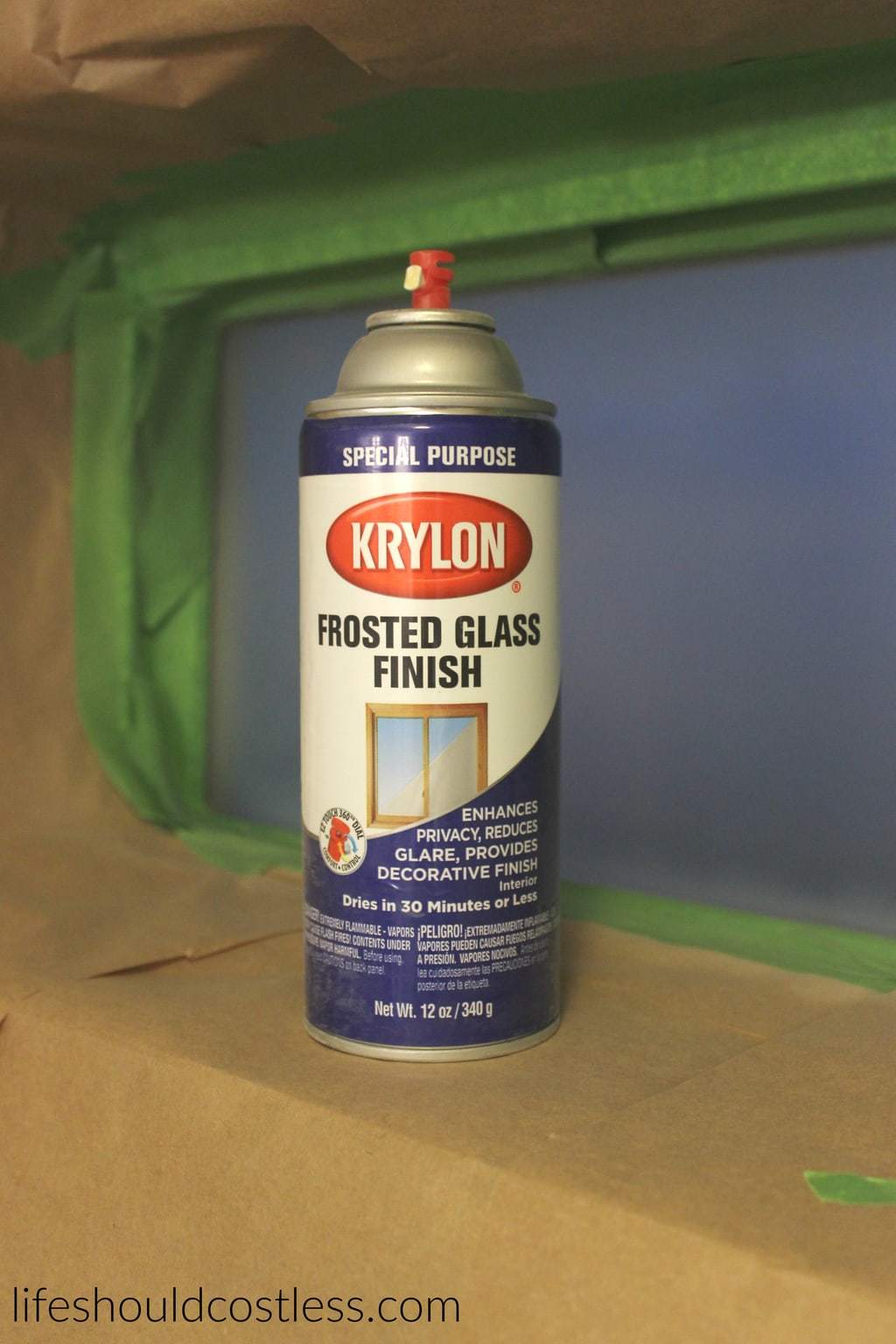 Here's what it looks like just after I applied it. I made sure to read on the back of the can about how far away I should be spraying from and did about three or four coats…as evenly as I could. After putting on a respirator, of course. You can't ventilate the room very well when the project requires the window to be closed, so a respirator is a must!
The "paint" worked great! I used it on the windows in both of our bathrooms and got just the results I was looking for. I will say though, that if you need to work on it at night, not to freak out if it looks like it is drying unevenly. Just leave it alone and check it in the morning when you have some daylight. I thought that I had messed up the whole window in our master bathroom and kind of panicked…just to discover that it would have looked fine as it was because I cleaned one side off before I went to bed and the other side looked fine the next morning. Lesson learned…the hard way, of course…it's kinda my thang!
*I've got pictures and links to several of my other cleaning tips at the bottom of this post, so make sure to keep on scrolling!*
I only recommend using this stuff on windows that are not going to be messed with,  or are just up high and out of reach. Because…when I had panicked, I decided that I should try and see if I could get it to come off, and by using the same method that I used in my "The Non-Toxic Way To Remove Hard Water From Windows" , I discovered that it comes off really easily (when you want it to), which means that kids could easily make it look like garbage…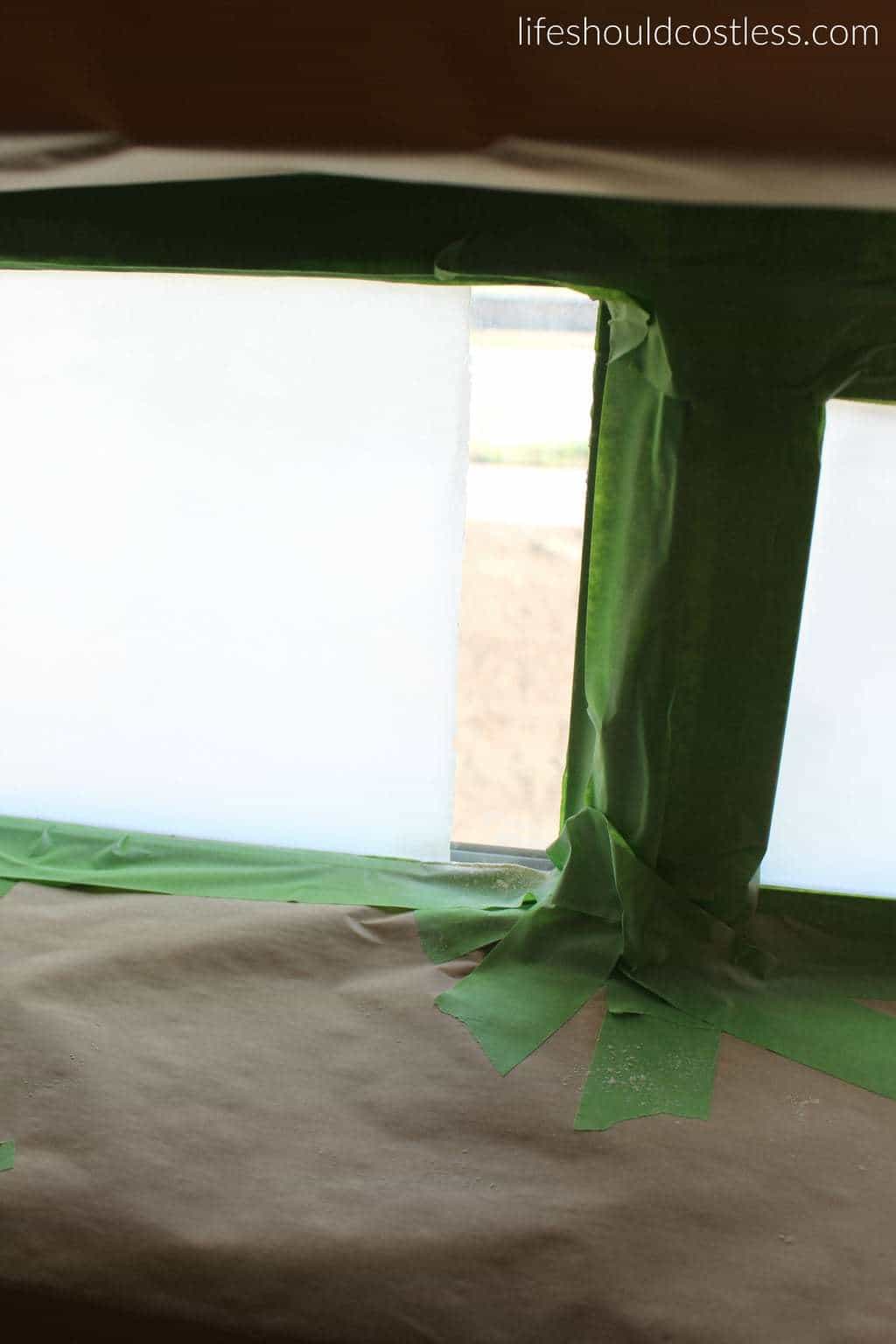 I thought you might want to see the before and after together again, now that you know what I did.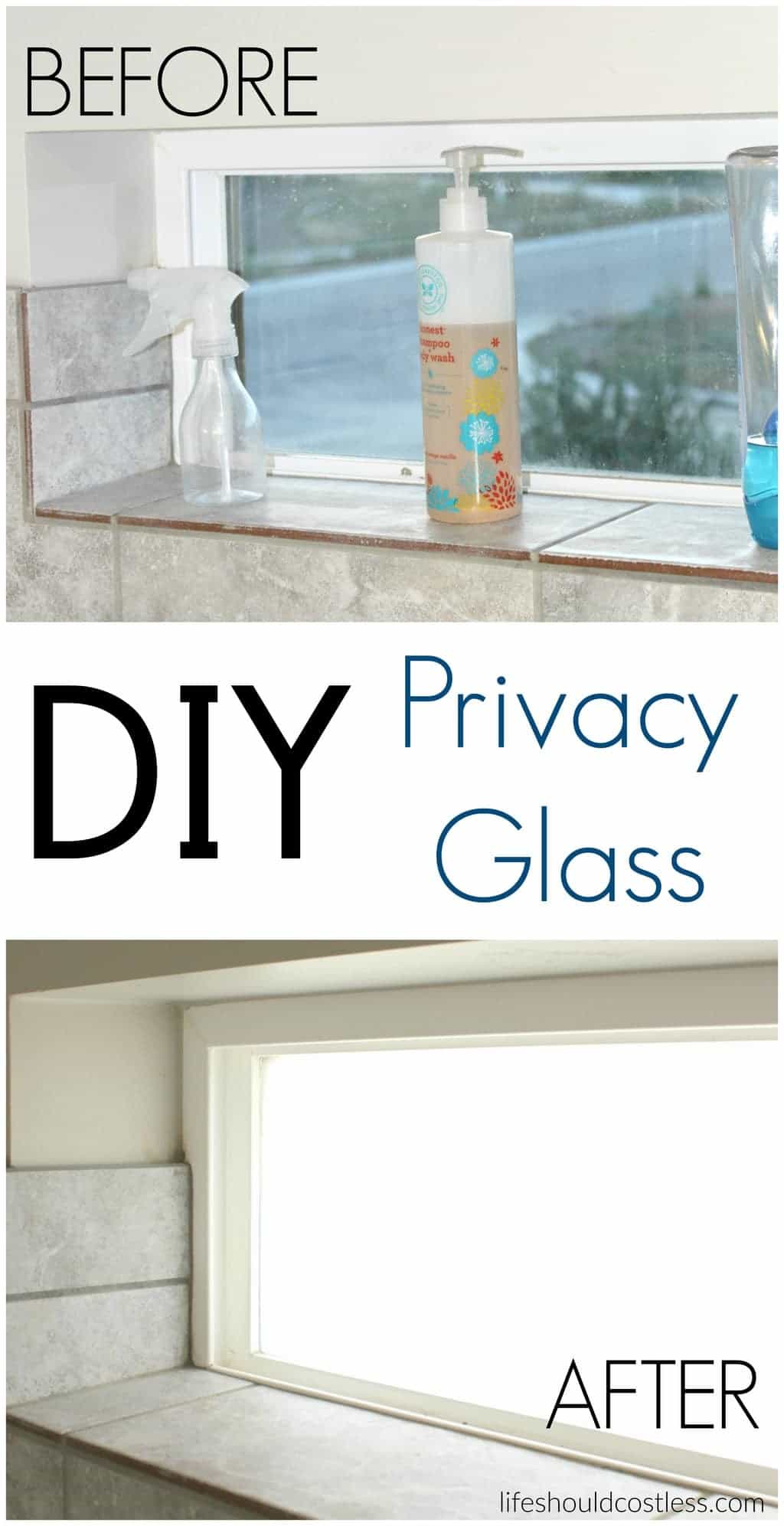 I'm pretty happy with how the windows turned out! It was well worth the time, effort, and money to see if I could get away without replacing the windows. Since I already had the tape, masking paper, and respirator, the whole project cost me less than $10. Cha-Ching!
Things to note:
I forgot to mention that  it took me less than an hour to tape off and spray both windows. I only waited a minute or so between coats. It says to let it dry a half hour, but I left it longer than that and then it took less than five minutes per window to take the tape and masking paper off.
Oh, and for any of you wondering how far the paint stretches, you should be able to cover between two or three little bathroom windows with a single can…not too bad!
I decided that when it comes time to clean them I'm going to be using a some mild soapy water and a non-scratchy rag and just wash gently. Luckily the glass up there rarely gets dirty so it won't need to be cleaned very often.
Boy does it feel good to no longer have to worry about creeper eyes in the bathrooms… I've been a victim to a series of peeping tom incidents before (which leaves one feeling violated in so many ways), so I wanted there to be some preventive measures taken…which makes me feel safer for my whole family. Not that I should really have to worry about that where I live now, but it doesn't hurt to take the precaution and make it harder for it to ever happen again.
Anyway, if you found this post helpful or know anyone that could use the info, please send them the link to this post. Thanks for stopping by!~Sarah
*Update 10/29/16: i just fell in love with another method of privacy glass covering that was way easier and it looks really pretty. If you're interested in seeing it, go here to see my post on Easy Lace Privacy Windows.
You may also like (the pictures are links):