Hi there! Join Sarah on Facebook, Pinterest, and/or Subscribe to keep up with what's new at lifeshouldcostless.
I have a love/hate relationship when it comes to moving to a new home. Obviously, it's exciting and fun being at a new place, but it's also really hard to decide how you want to organize everything. I have one particular (non-food area) counter in my kitchen that has been perpetually piled with various papers and things because I'm not sure where to put them yet, and the fridge is only magnetic on the sides, which compounds the problem. My solution was to organize it with cork, but being that the kitchen is pretty nice, I wanted to go for something that is both functional and aesthetically pleasing. Which meant that standard cork was out of the question…because it would look super tacky right where I needed it.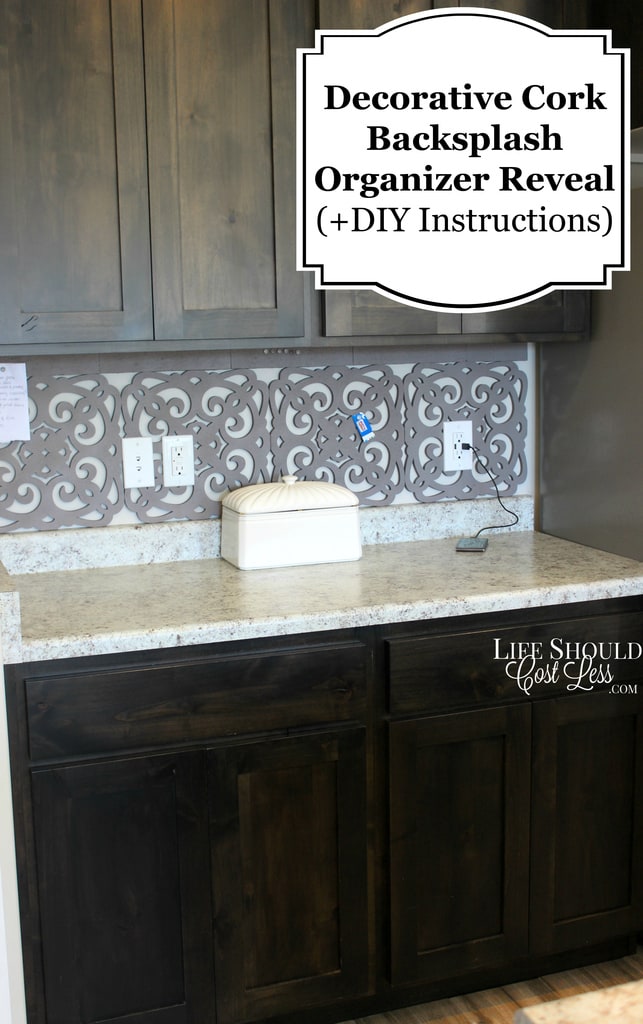 Before I show you how I did it (and where I got everything), I'm going to show you the final product from a few different angles so that you can not only get a feel for it, but see what the color that I painted it looks like in slightly different lighting. The color ended up being a few shades darker than I thought it would be, but hey, I can always tape off and roll on a different color whenever my heart desires…or if I'm just sick of it.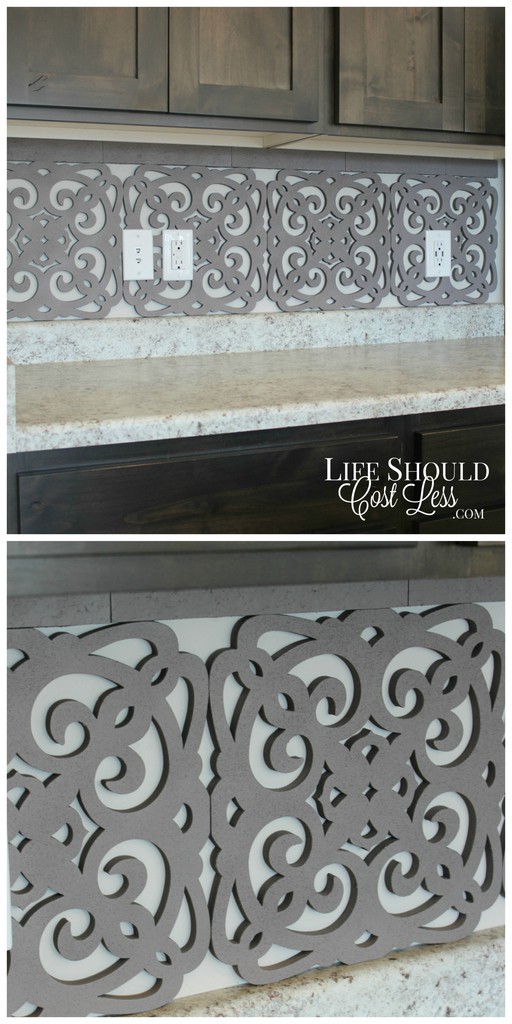 Yes, that's cork! I think that the best part about this project is that my husband and I were able to put it together in one afternoon. I can only imagine that putting in a tile backsplash would have consumed several more hours or an entire weekend. So I'm pretty happy about getting to enjoy our weekend and still get a fun project done. (Side-note, the hubs and I get on each others nerves if a project takes too long, so this was actually the most enjoyable project we've done yet!)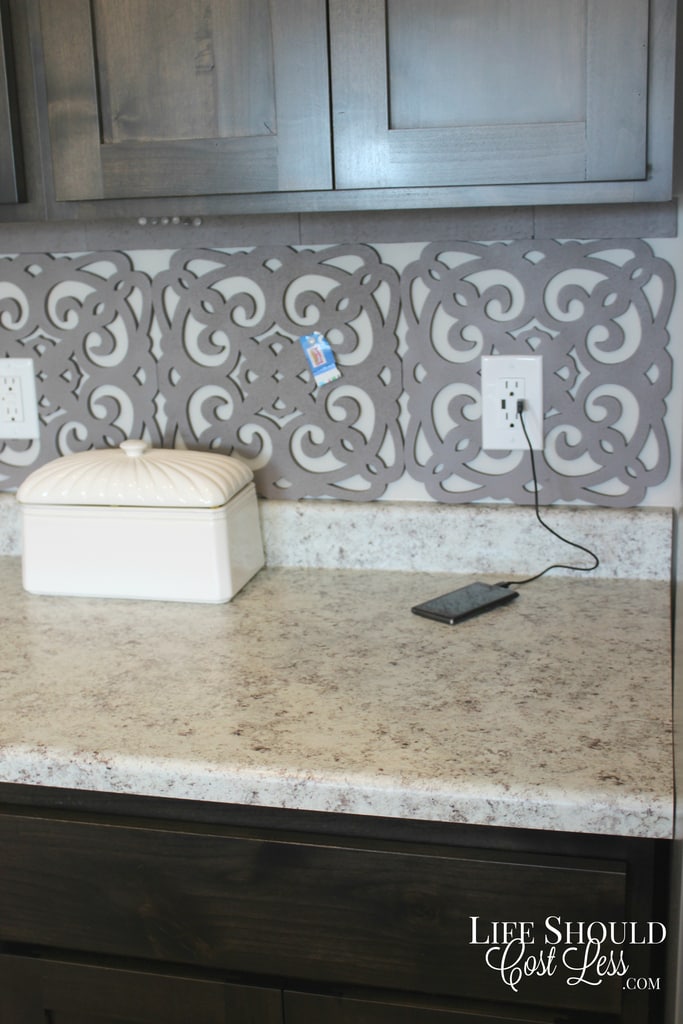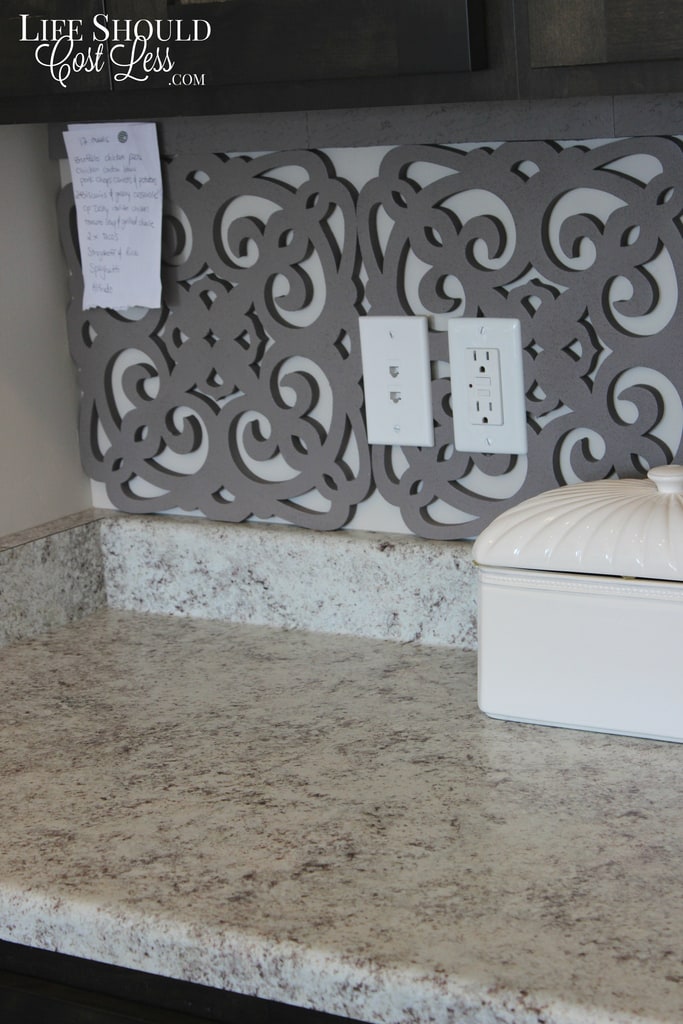 It only looked this tidy for about five minutes after I took these pictures…but there is already a considerable difference in the amount of things that are going to be in a stack or stuck in a drawer, never to be seen again…now we have a place for all those stray box-tops and other various papers the kids drag home from school. This would be a great project to do above a desk area in a kitchen or office too…just sayin'.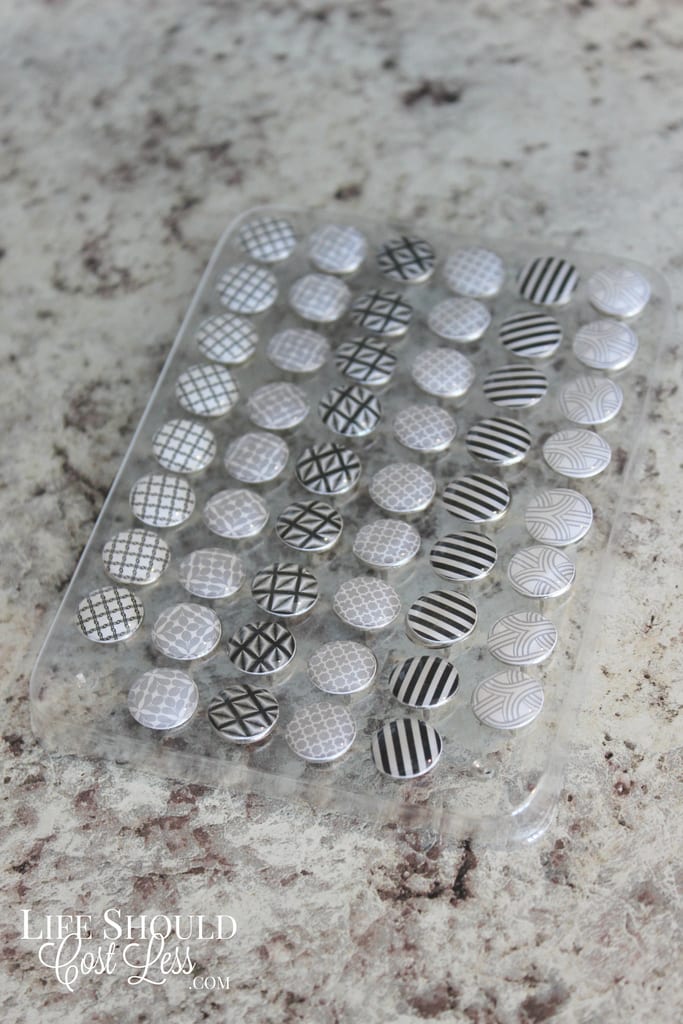 The total cost would have been around $50 but both my husband and I allowed ourselves each one splurge. Mine was on
these super cute decorative push-pins
. They make me happy every time I pin something to the cork…I know, pitiful that this makes me happy, but it's the little things…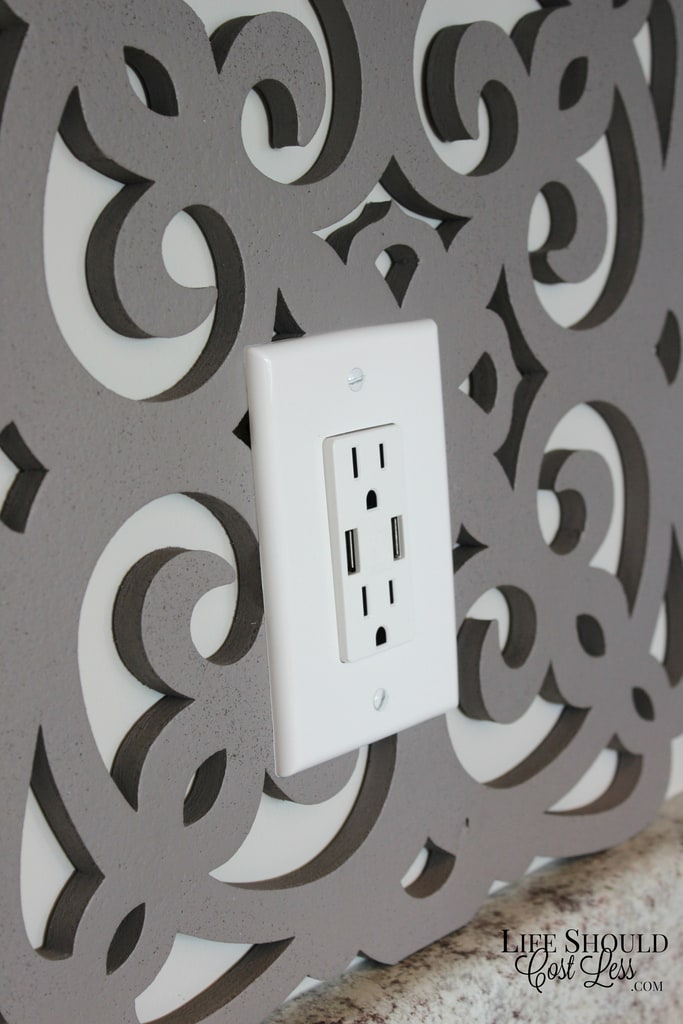 His was on installing an outlet with usb ports (it's $5 cheaper to buy it via this link than it was in-store at Home Depot). We figured that if we were ever going to put one in, we better do it while we were taking apart the outlet anyway.
A before and after just to show you just how big of a difference it made. Isn't it amazing how adding the backsplash magically made all the smudges on the cupboards disappear?…Only kidding, I try to clean things better for the after shots so they look even better, but hey, any excuse to get caught up with some cleaning is good. ~Sarah
Finally, here is the link for the tutorial. The post would be freakishly long if I didn't break it into two, so stop by and see all the steps and what I would do differently if I were to do it again.