I'm not usually a big soup fan, so it takes an extra delicious soup recipe to even get my attention. I recently asked my Facebook friends if anyone had an awesome soup recipe that they would let me share and this one was sent to me by my cousin Crystal.
You guys, it is REALLY really good! My eight-year-old (soup lover) was so excited that I was making it and couldn't stop telling me how yummy and creamy it was.

I planned on sharing this recipe a couple of months ago, but the recipe of my own that I have been developing just hasn't been going the way that I wanted it to in the recipe development stage… so, rather than making you all wait for another month until I figure out what is going wrong with that recipe, I thought that I would sneak this one in here real quick while I continue to plug away at my many failed attempts of the other recipe.
Anyway, let's jump right into the photo tutorial of this delicious soup. I did not take a picture of the ingredients all laid out as there is nothing that should need to be clarified…they're all standard soup ingredients. I made mine all on the stove-top but Crystal has partial microwave directions. I will include both on the recipe card.
The first part was making the white sauce. In a large stock pot, I added the butter,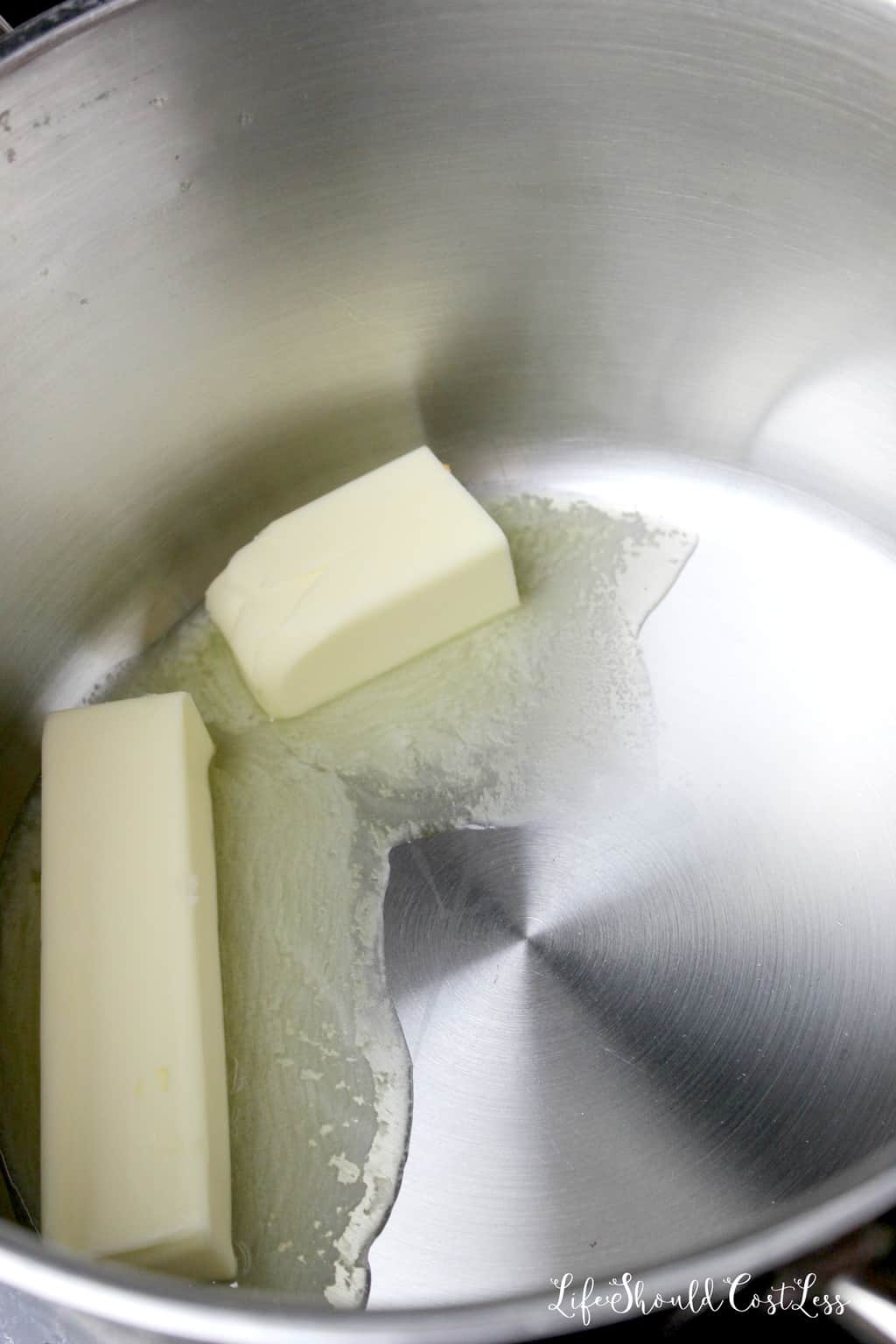 then let it melt.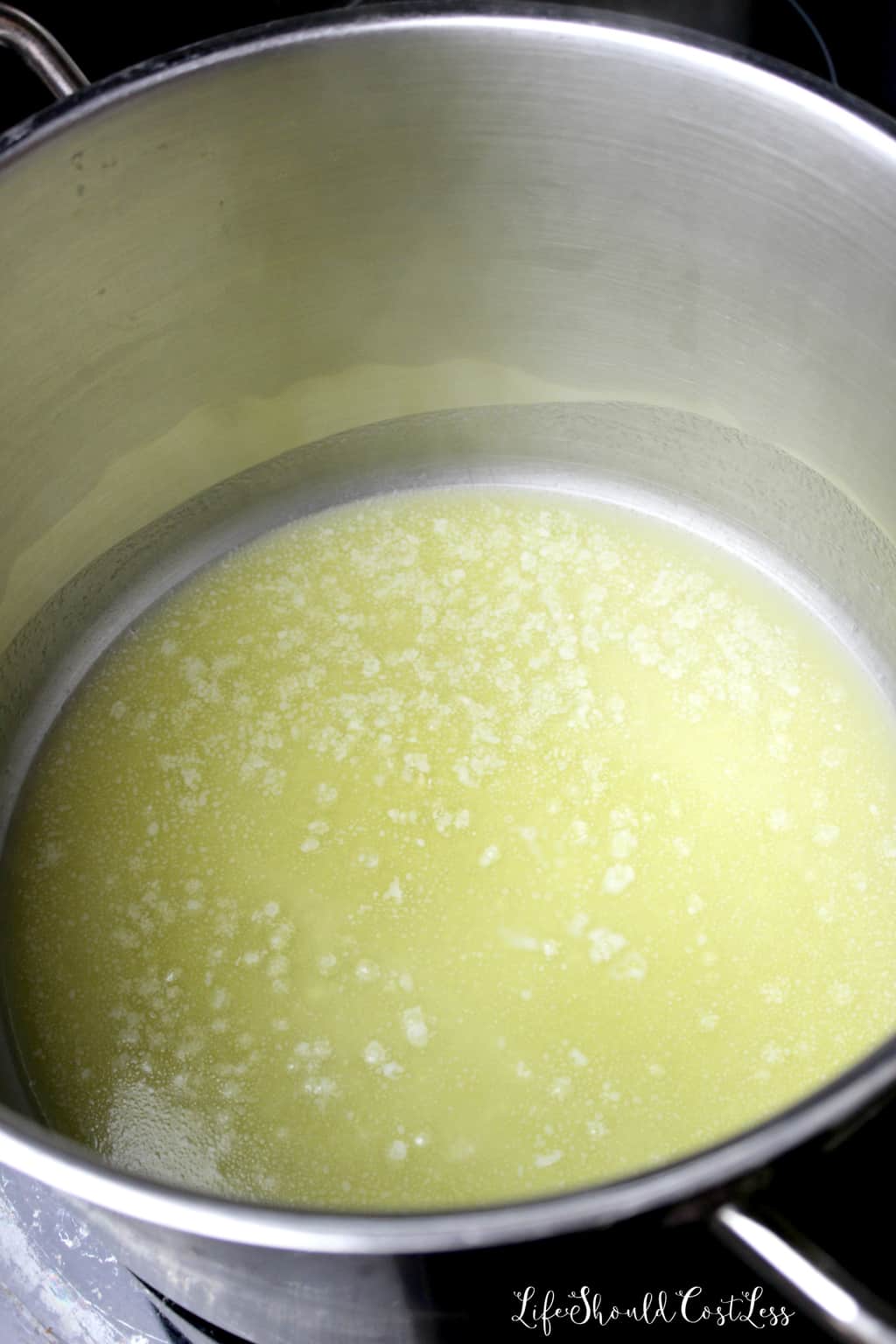 Then added the milk.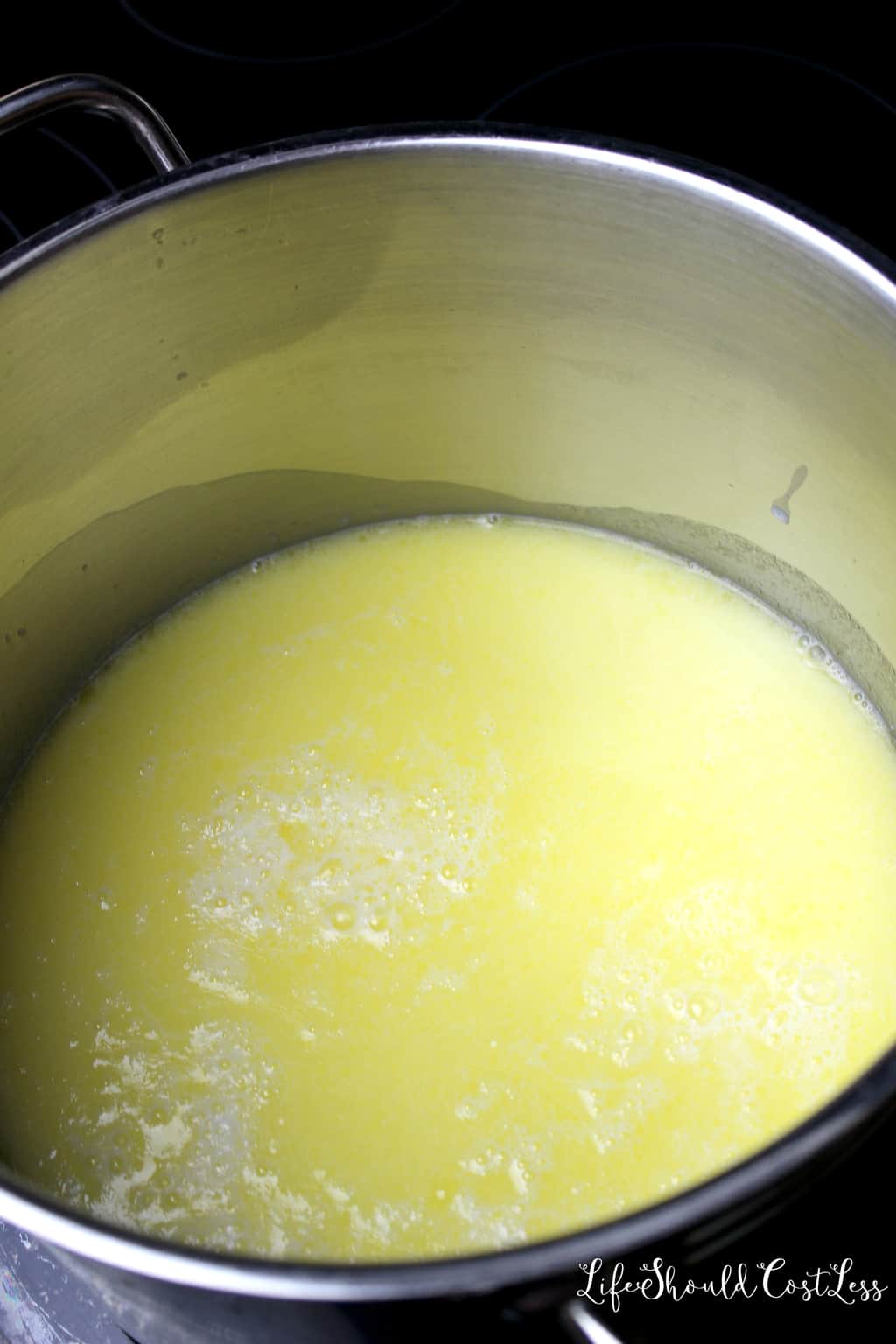 Then the flour.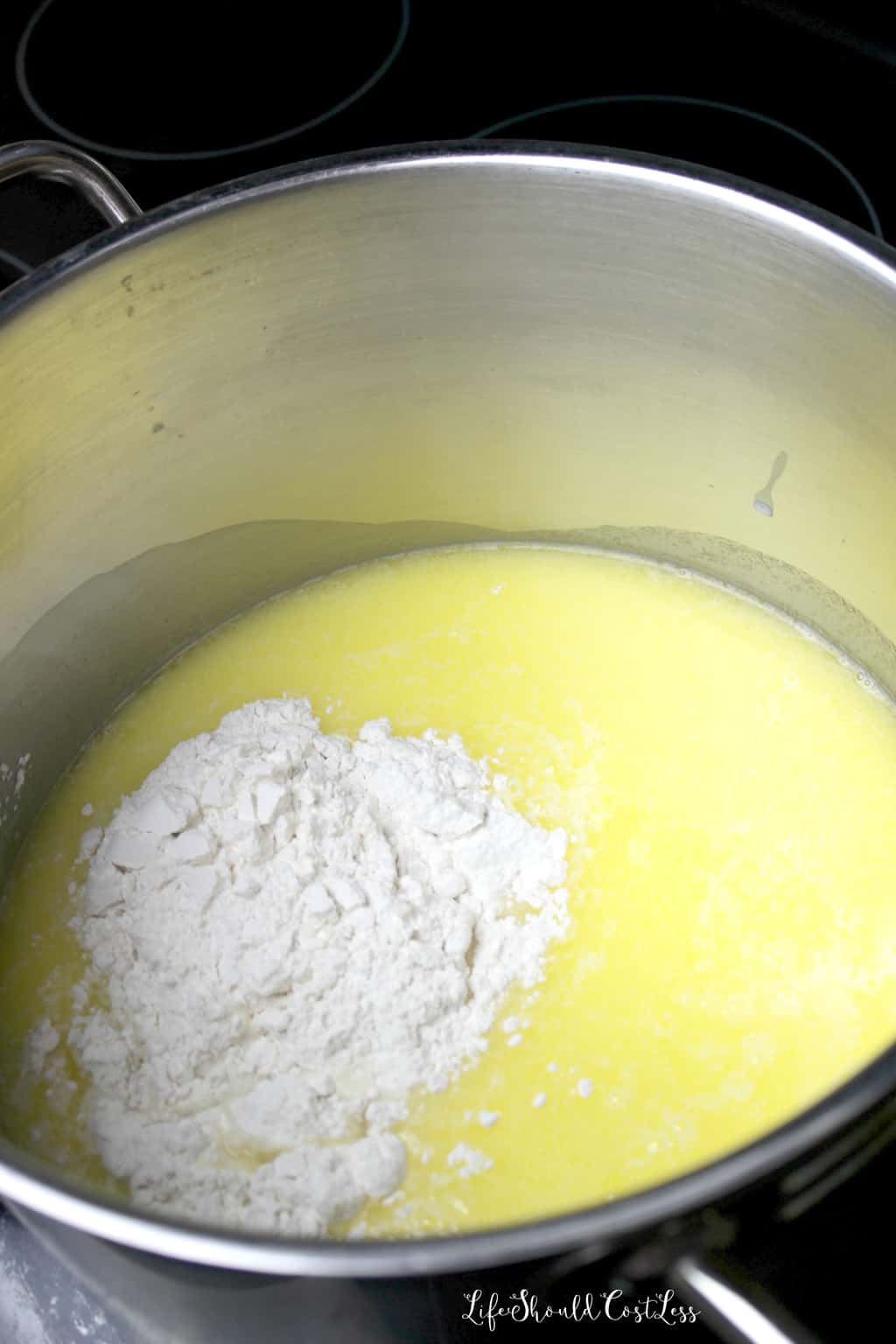 Then whisked it all together, and brought it to a boil over medium heat. Then kept stirring until it was thick and creamy…this is creating a roux…or at least I think that that is what that process is called.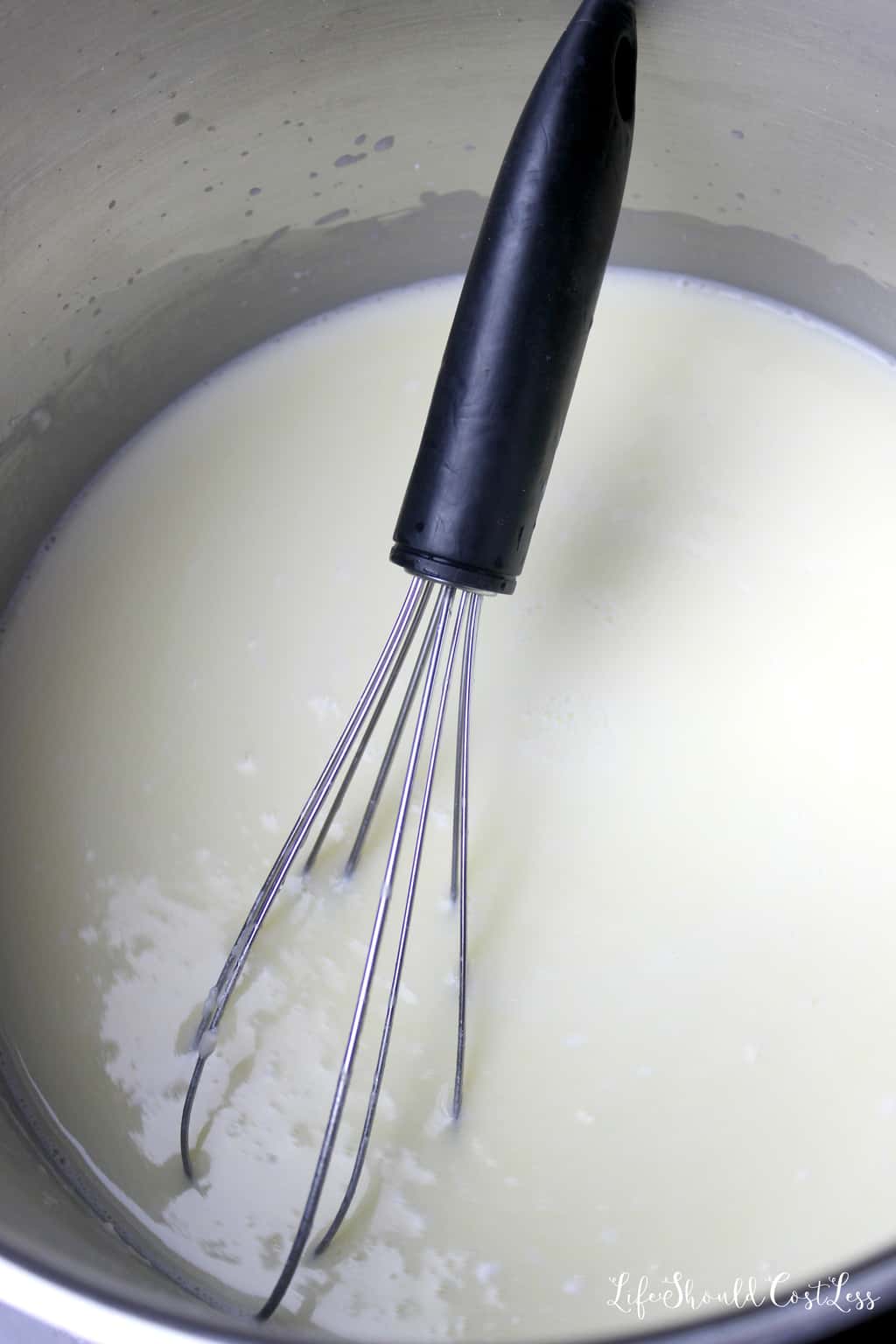 While I was waiting for the white sauce to come to a boil, I wash and chopped all of the veggies and cut the cheese into cubes. I used Velveeta this time.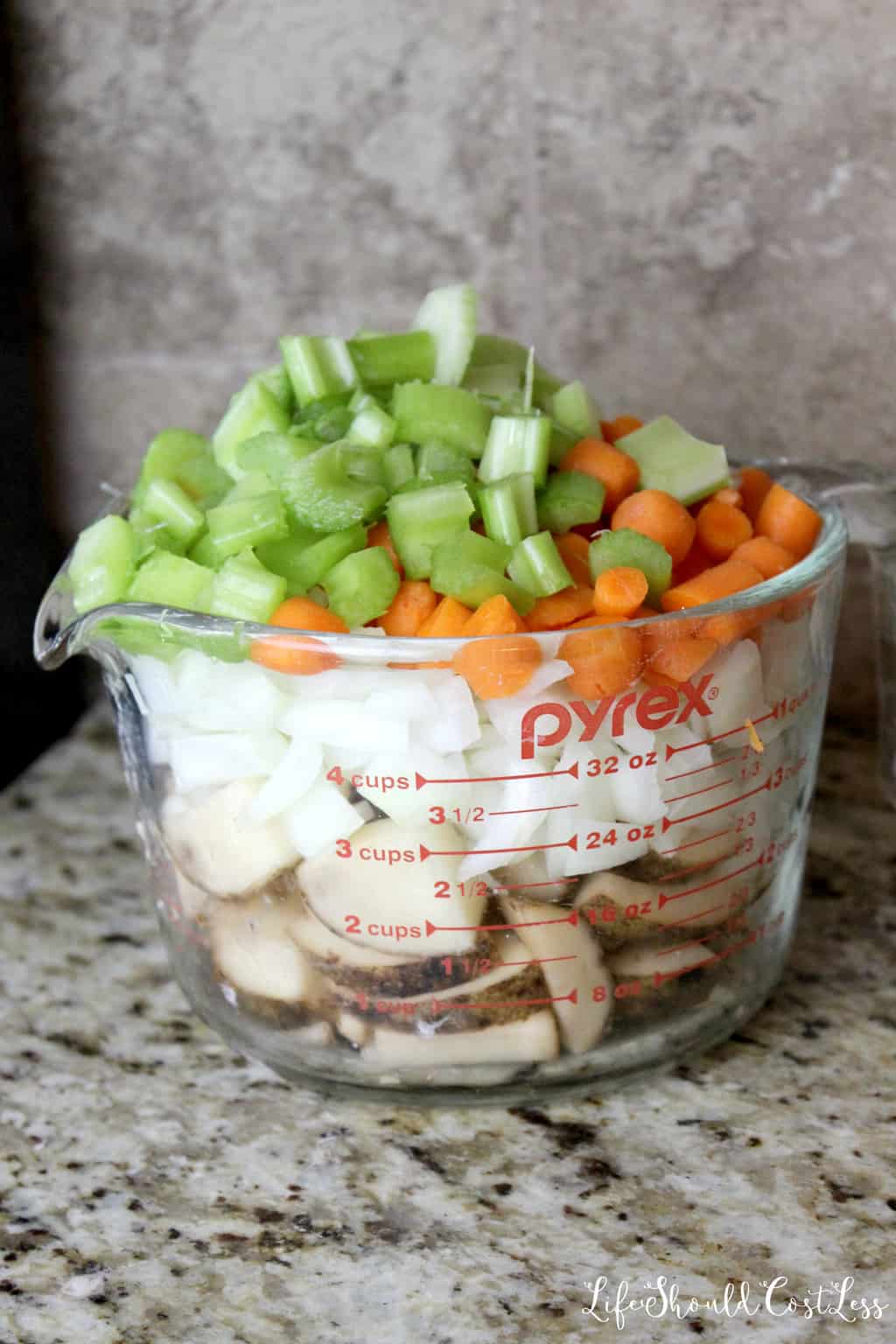 Once the white sauce was done, I added all of the remaining ingredients.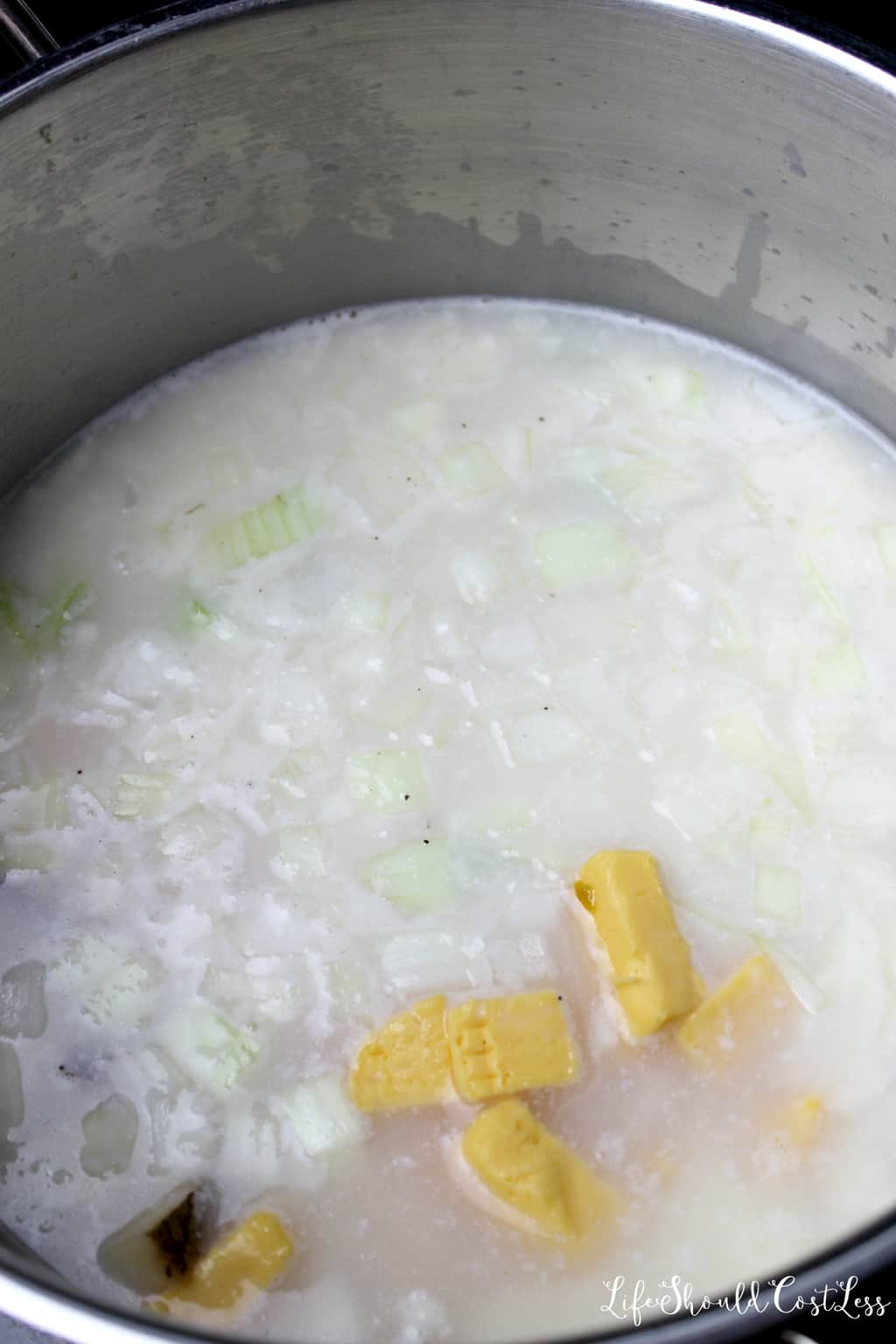 Then stirred it up, brought it to a boil, and then reduced it to a simmer until the potatoes were tender. It took a good half hour for mine to simmer enough for the veggies to be tender…but I'm a super lazy cook, and cut everything into huge chunks so I'm sure that that is why. If you want to spend less time stirring then make sure to cut your potatoes more finely.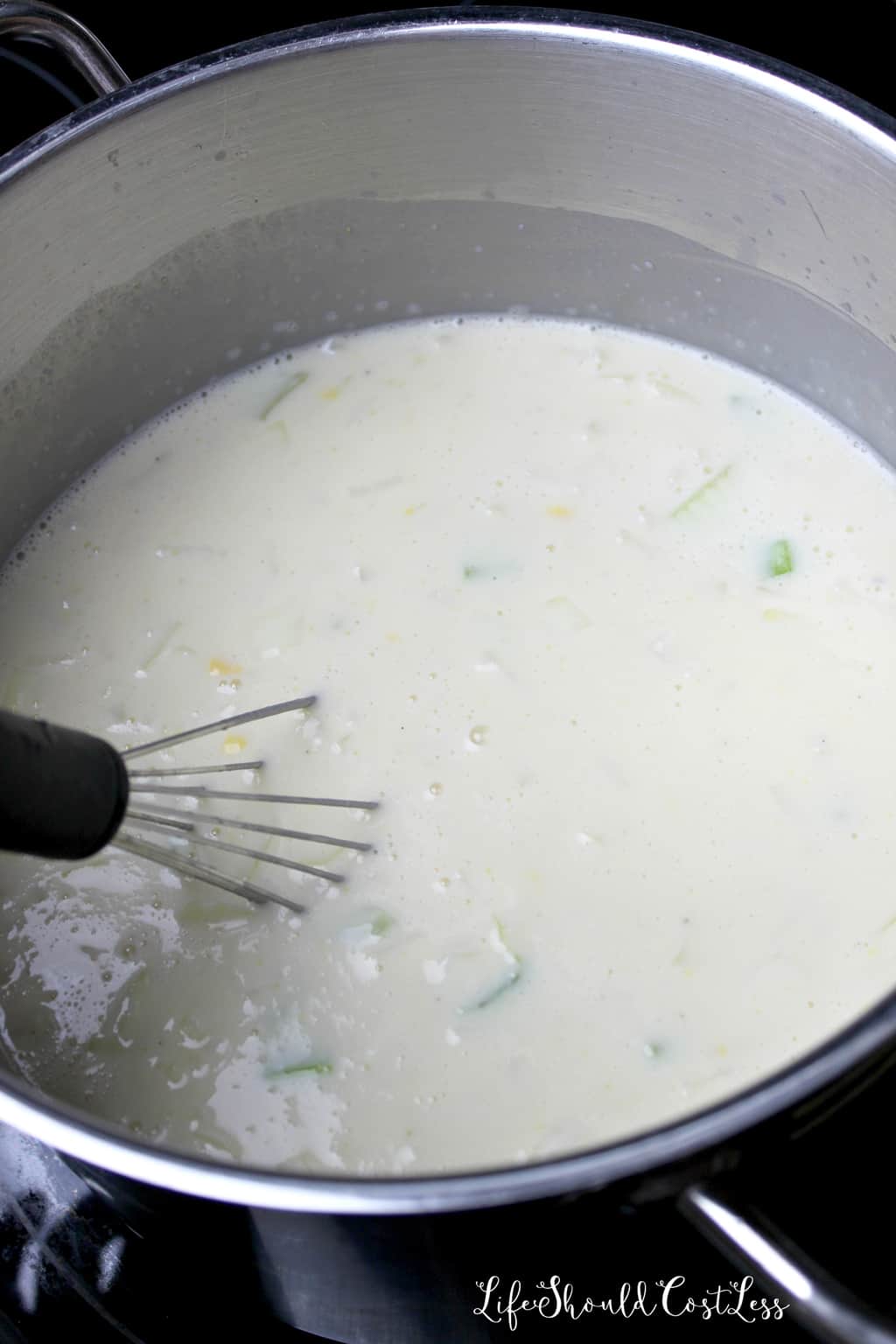 Anyway, I garnished it with parsley for the final pictures, but it's completely optional.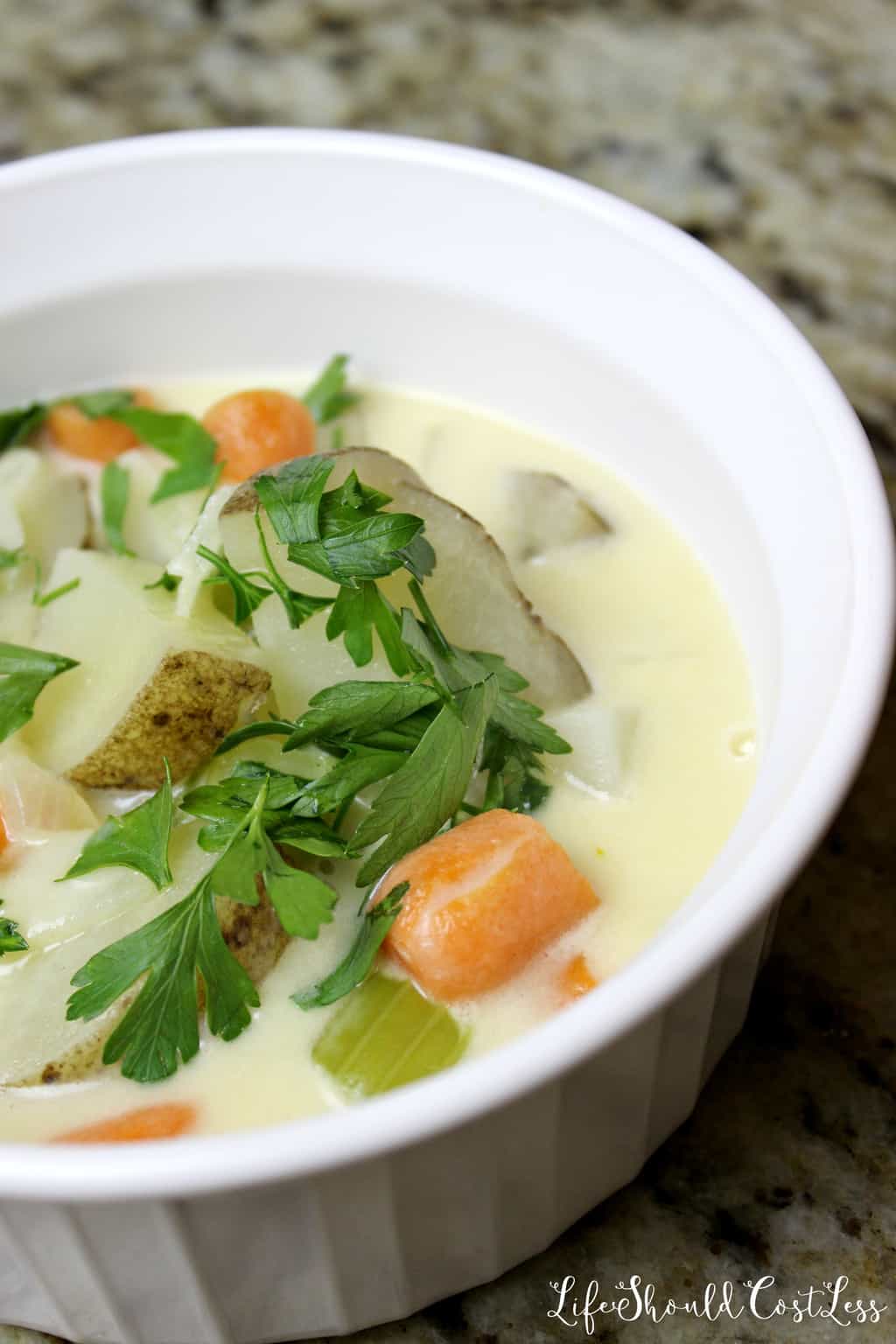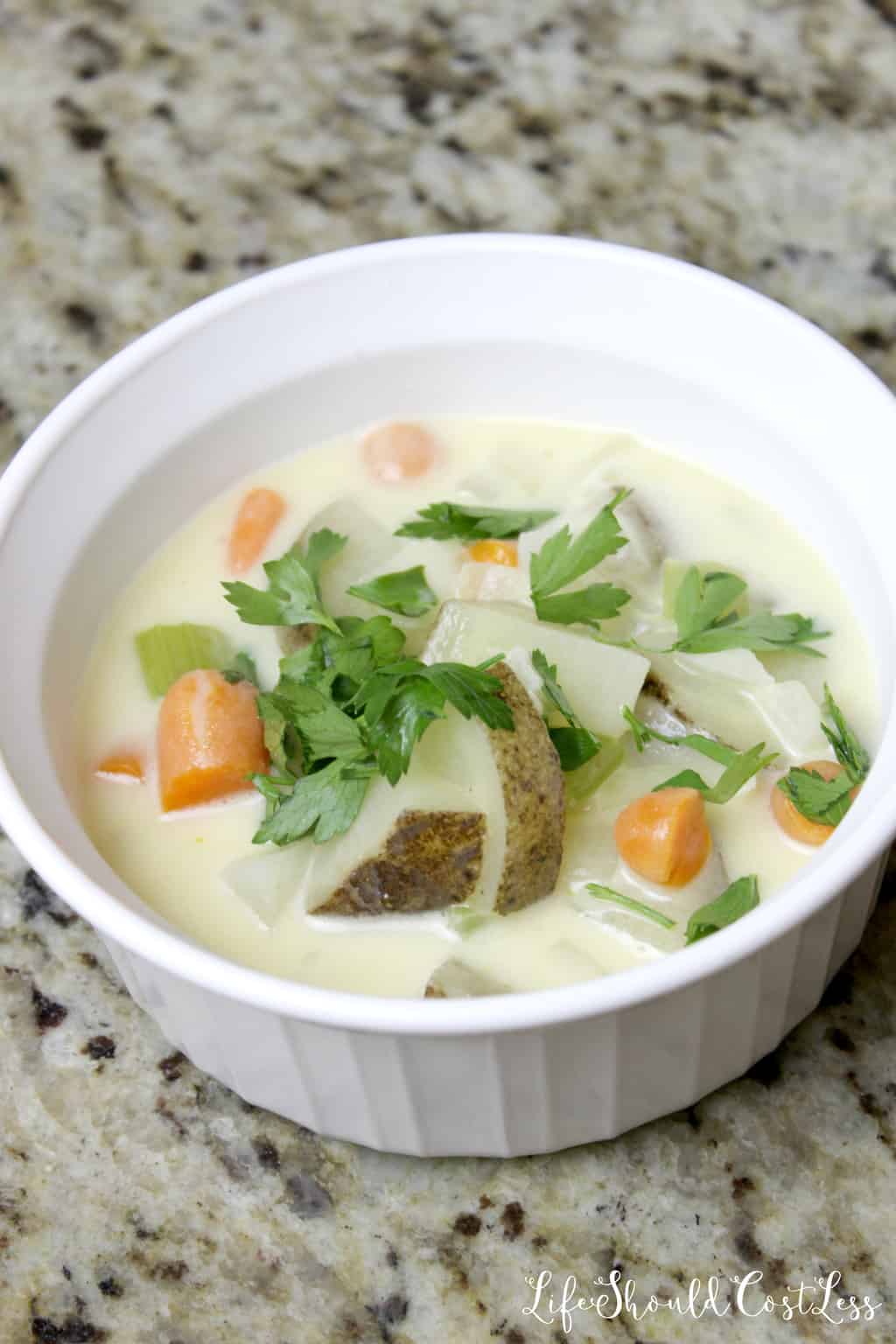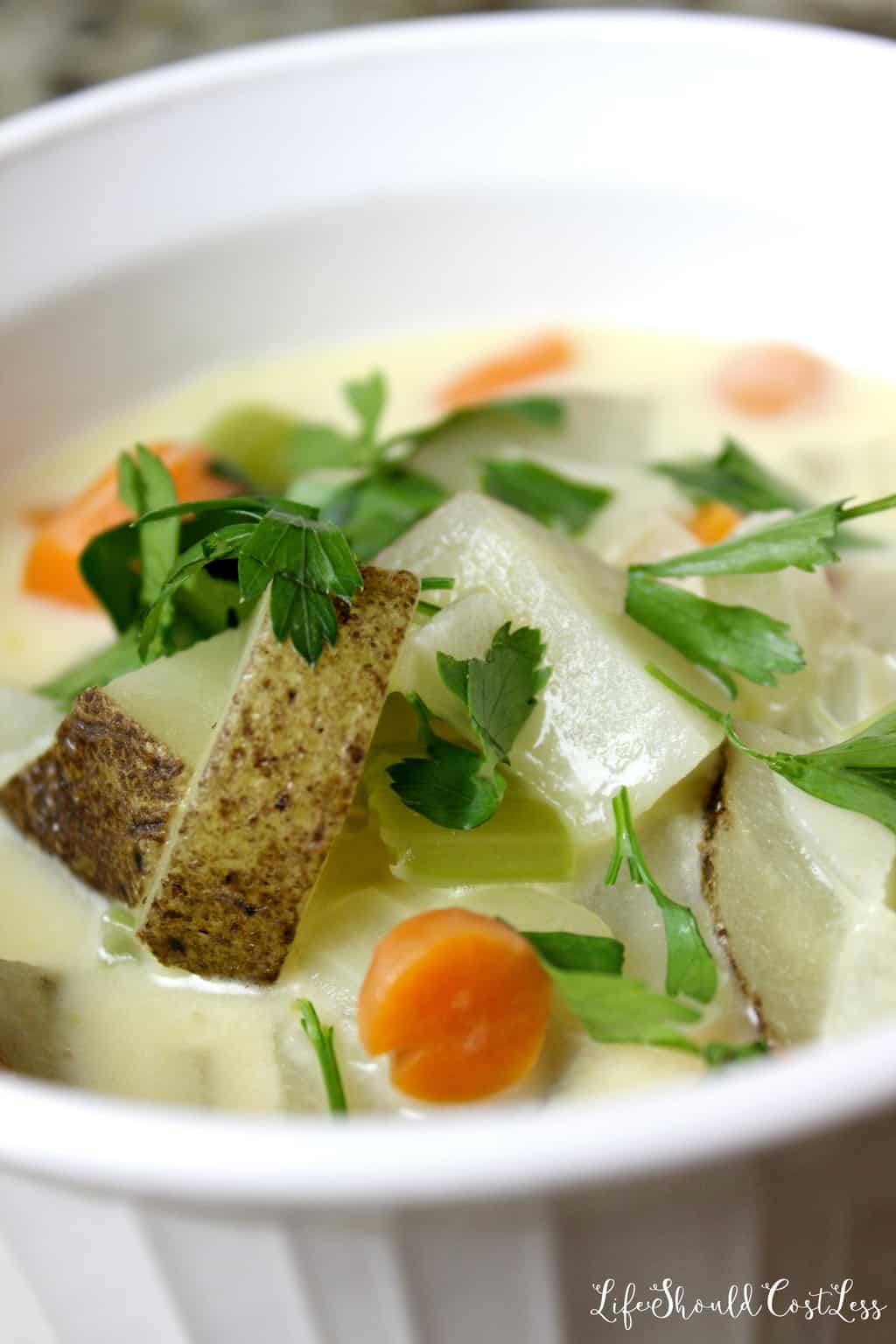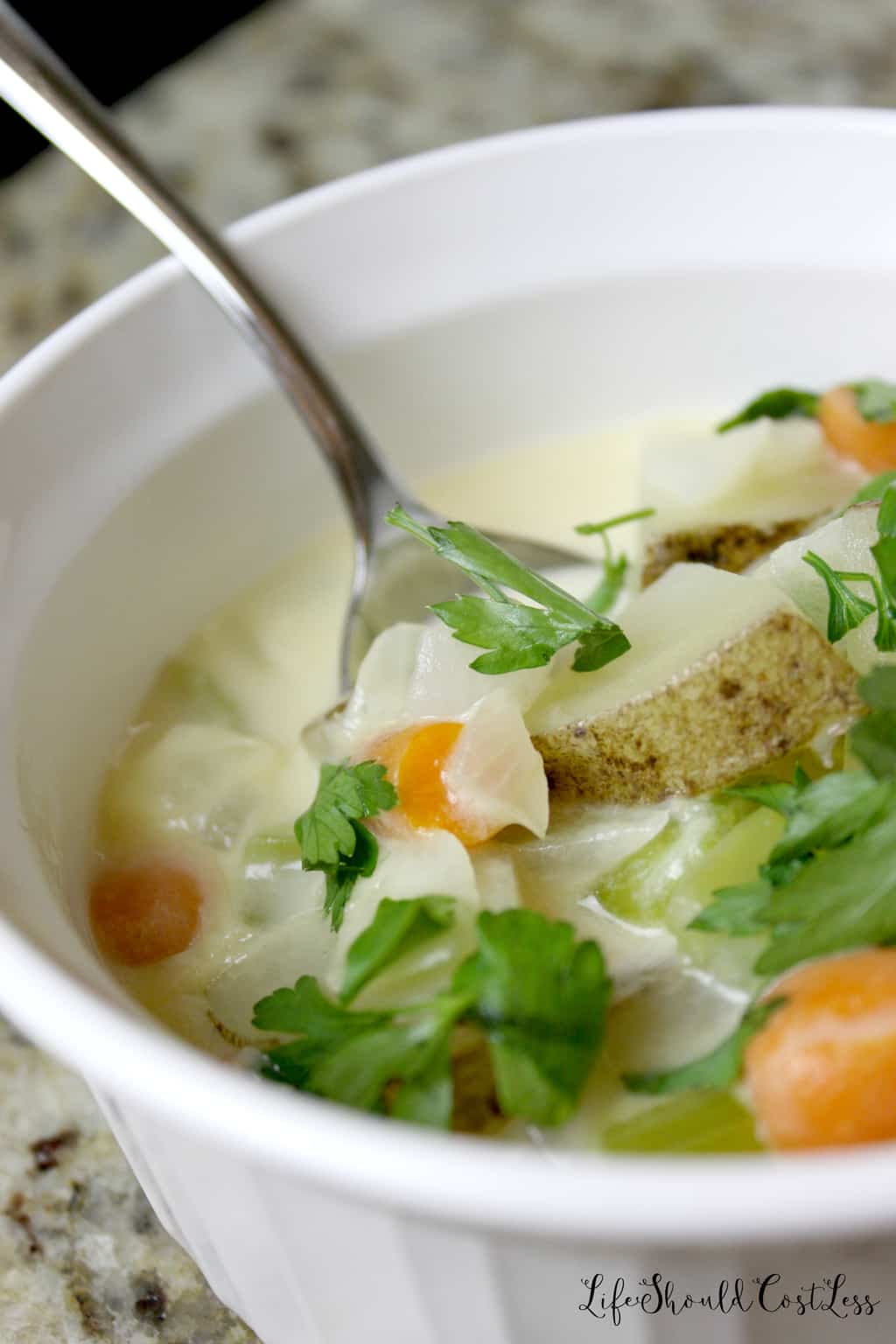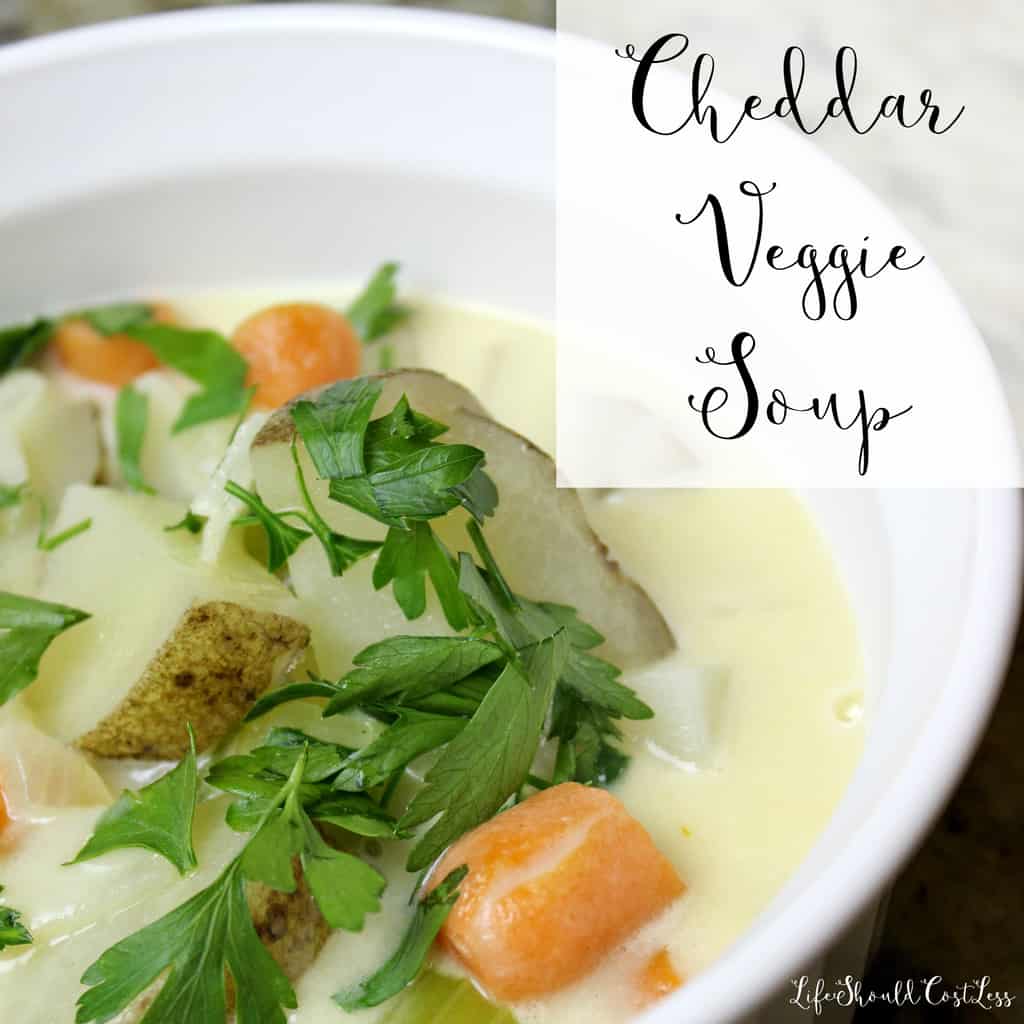 Cheddar Veggie Soup
Author:
LifeShouldCostLess.com (submitted by Crystal W.)
Ingredients
White Sauce:
¾ Cups. Butter
4 Cups Milk
¾ Cups Flour
Remaining Ingredients:
3 Cups Potatoes (cubed)
2 Stalks Celery (chopped)
1 Cup Grated Cheddar Cheese (can sub with cubed Velveeta)
1 Large Onion (diced)
1 Large Carrot (grated)
¼ tsp Black Pepper
1 Tbsp Chicken Bouillon
3 Cups Water
Instructions
Stove Top Instructions: In a large stock pot add butter, let melt. Add Milk then flour. Whisk it all until smooth. Bring to a boil, stir constantly until it has become a thick, creamy consistency.
Add the remaining ingredients, stirring frequently, bring to a boil then reduce to a simmer. Simmer until the potatoes are tender to your liking.
Microwave instructions: In microwave, melt butter in large bowl. With a wire whip, stir in flour. Cook until it bubbles, about 2 minutes. Slowly add milk, stirring constantly. Continue cooking, stirring every 3 minutes until mixture thickens. Add to veggies. Stir in Cheese.
Put veggies, water and bouillon in a large pot. Add white sauce and simmer 10 minutes. Add remaining ingredients. Stir and serve.
I think that there are more than enough food groups going on in this recipe to consider it a whole meal…you could even add some chicken to it if you're a meat lover. The sauce is so good that this could easily be a good recipe for cheddar broccoli soup if you swapped out the veggies for broccoli, and maybe triple the cheese…at least that's what I would do.
As per my usual request…if you like this post, please make sure to share it via social media and/or send the link to this recipe to whoever you know that would love it. Thanks for sharing, and if you don't want to share it you always have the option of supporting this site via direct PayPal donation, found here.
Oh, and before I forget, make sure to subscribe to my email list so that you never miss a post. Thanks so much for the support and stopping by my blog. ~Sarah
P.S. You may also want to check out my entire main dish section, as well as my fall favorites section.