This girl right here has always had a major sweet tooth that is about 80% a chocolate addiction. Lol, so you better believe that these triple chocolate cookies are something that I crave all of the time!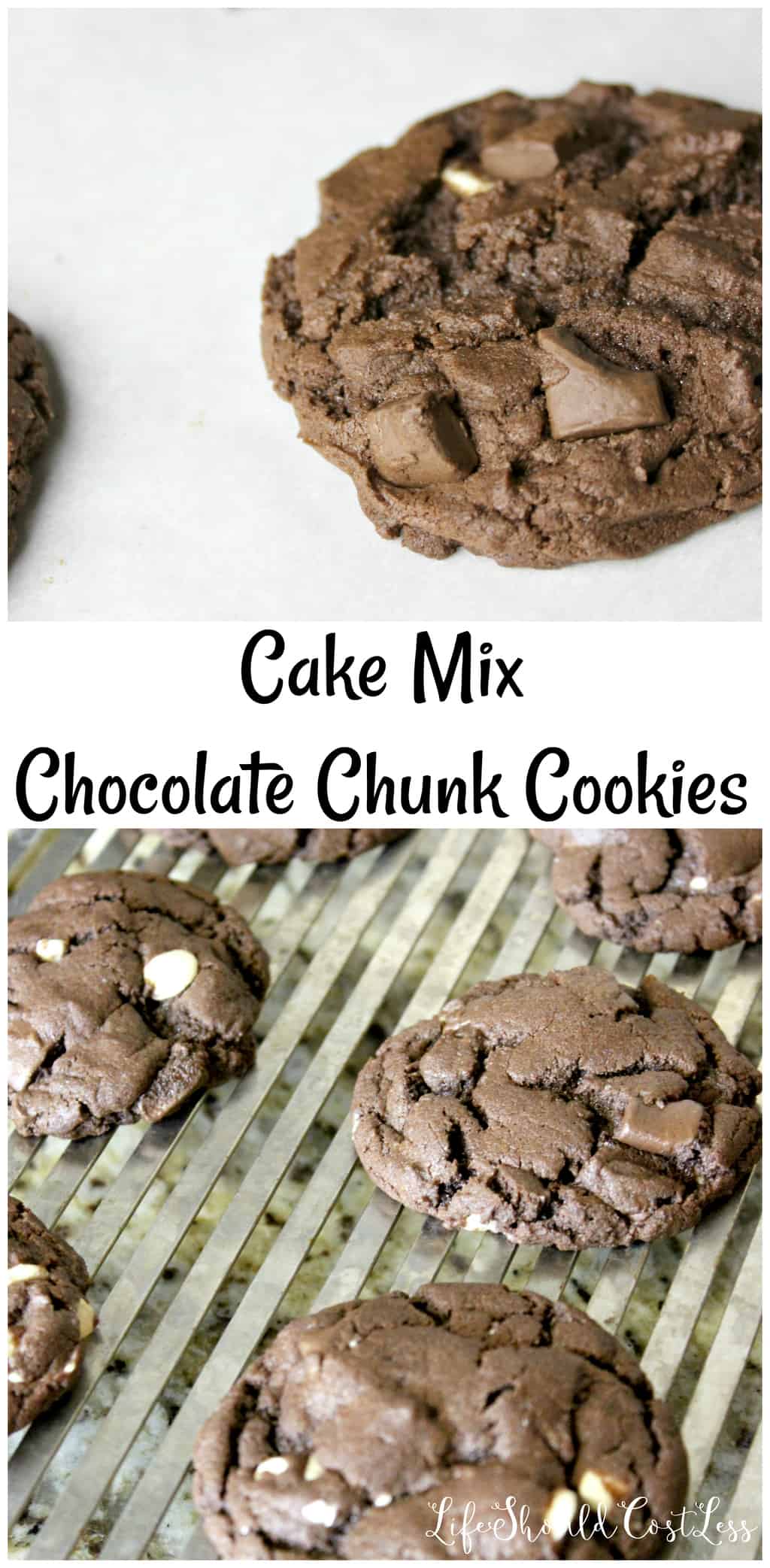 They are pretty tasty, and I think that my favorite thing about them is that they are so quick and easy to make…that is largely due to the fact that about half of the ingredients are inside the cake mix …maybe it's lazy to use a cake mix to make cookies, but oh well because they are BOMB! Like good enough that if you make them people will probably think that you bought them at a store.
This recipe is beginner level, so it would be really hard to screw them up. I got this recipe more than a decade ago from an old co-worker named Carla. She and I both liked baking so of course there was some recipe swapping going on.
Anyway, I am going to dive right into the photo tutorial. Here are the ingredients all laid out.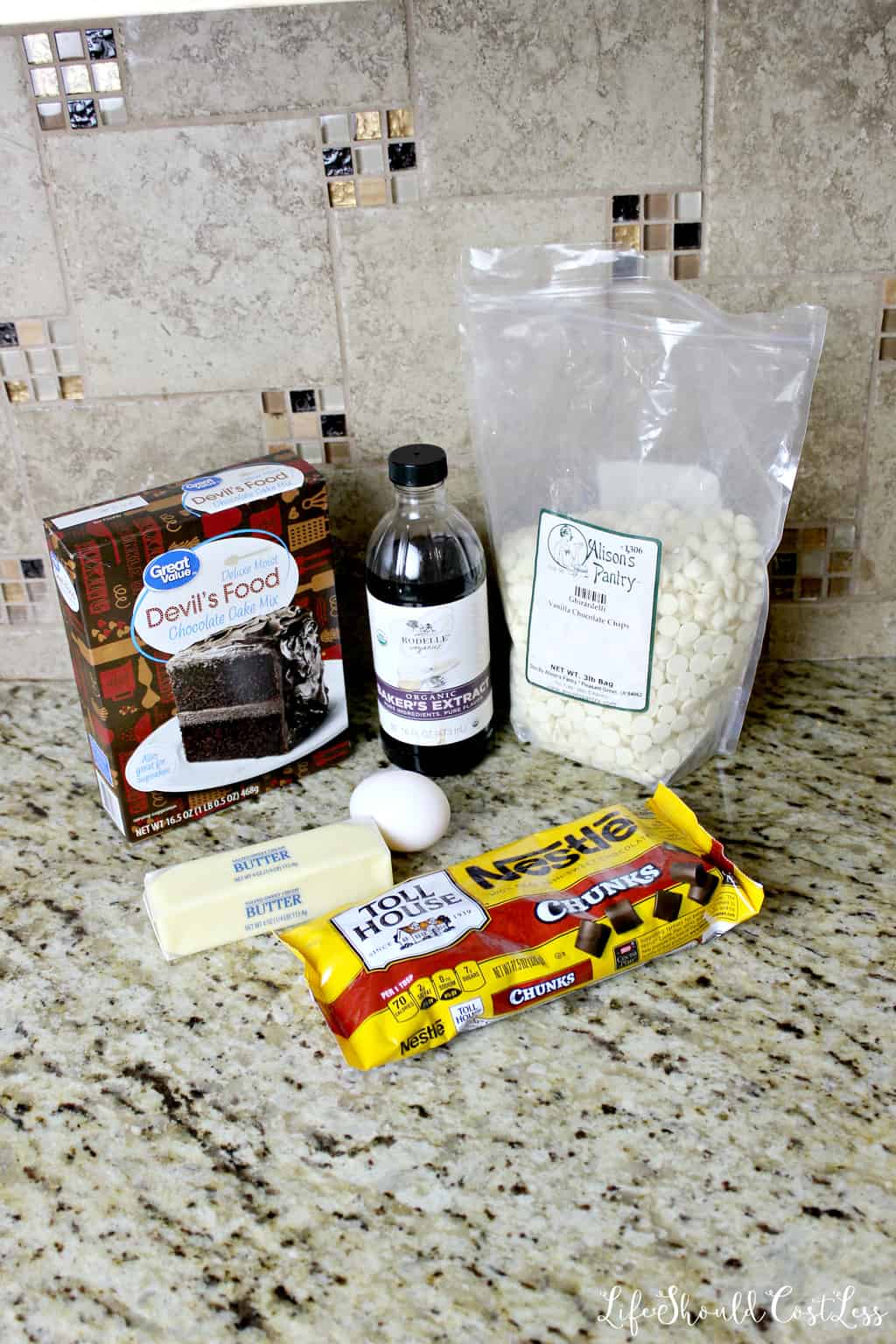 My mixer attachment for my Bosch broke so I had to borrow my parents KitchenAid for this tutorial…and I am so much more in love with the KitchenAid that I don't want to give it back. I guess I will need to add one to my wish list and just use the Bosch when baking six loaves of bread at a time.
We started out with a cookie paddle attachment in the mixer and added all the ingredients minus the chocolate chips.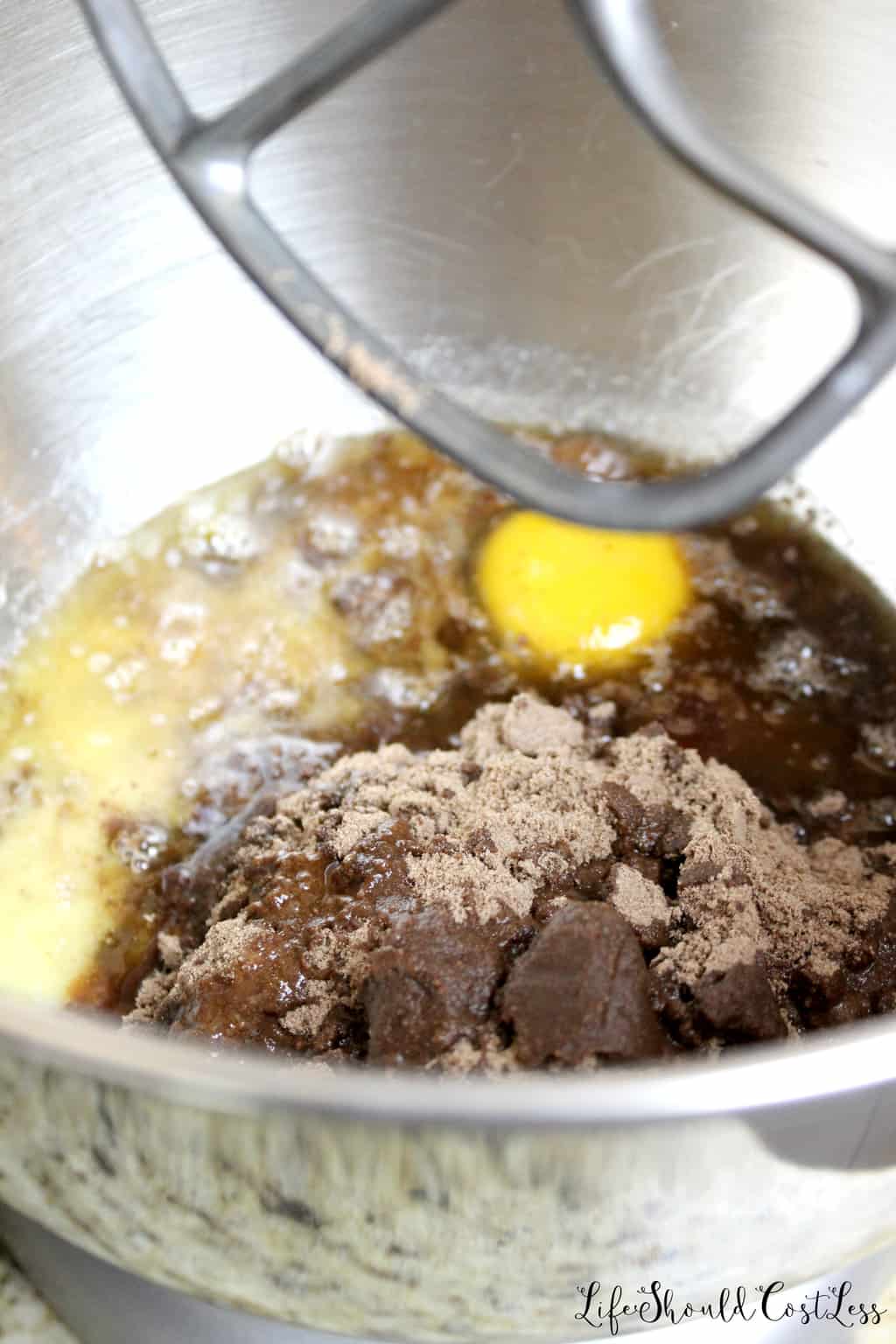 Mixed well.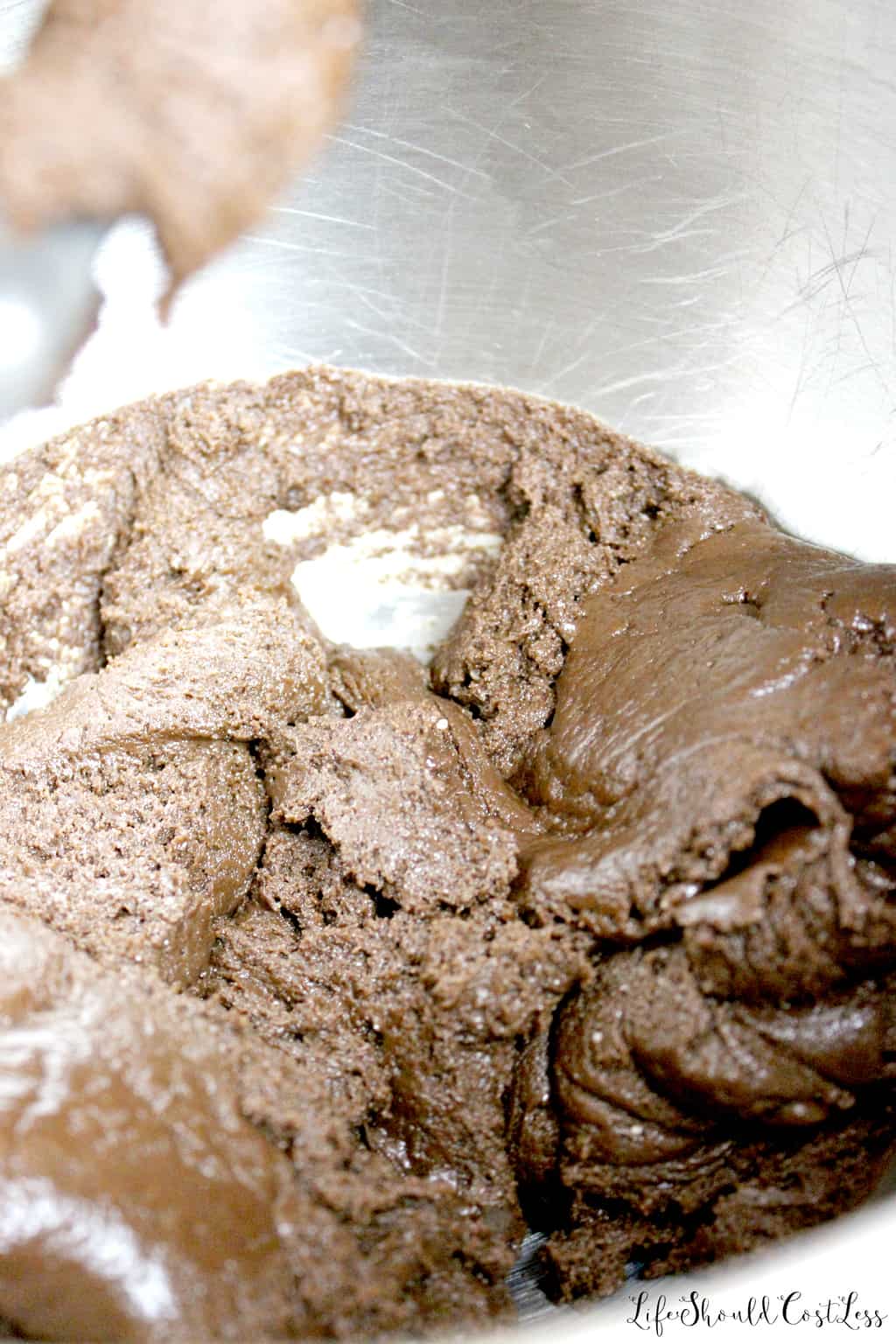 Then added the chocolate chips.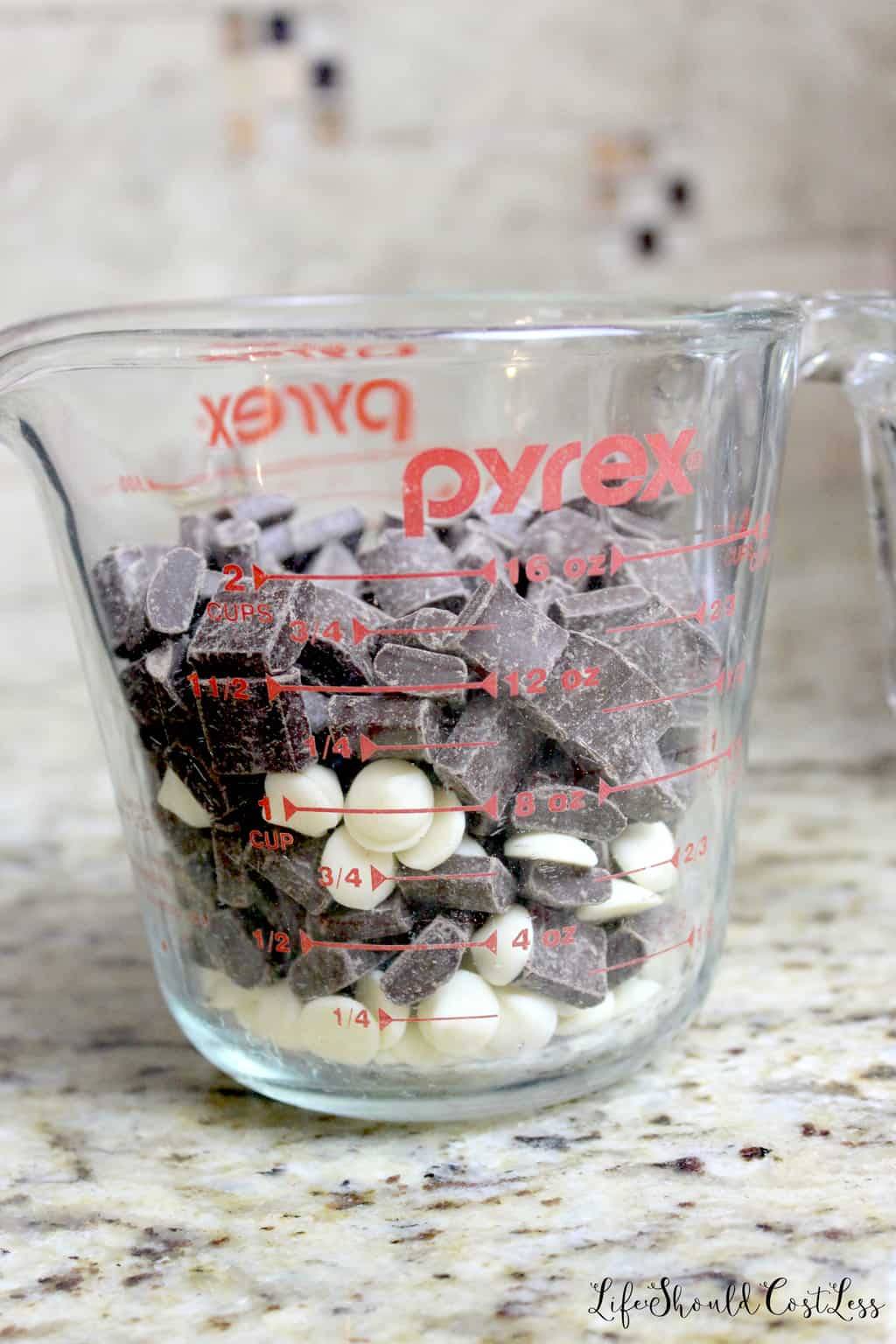 And mixed well again.
I told you this recipe was easy, but can you believe it's THAT easy? I dropped them by cookie scoop on a parchment paper lined baking sheet.
Then baked for approximately 12 minutes. These cookies do not look done when they are done. It's a little harder to tell when you are dealing with a cookie that is this dark in color.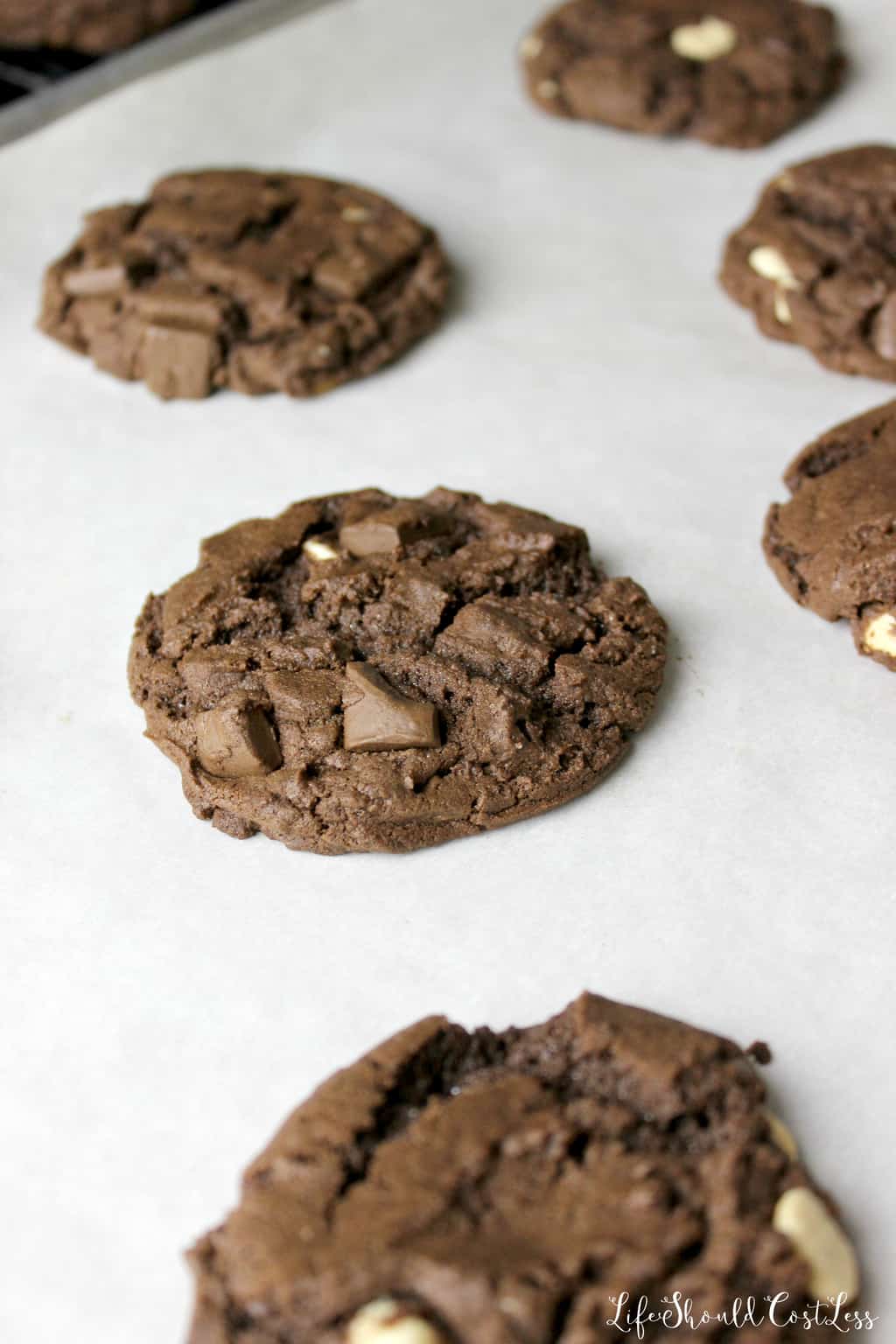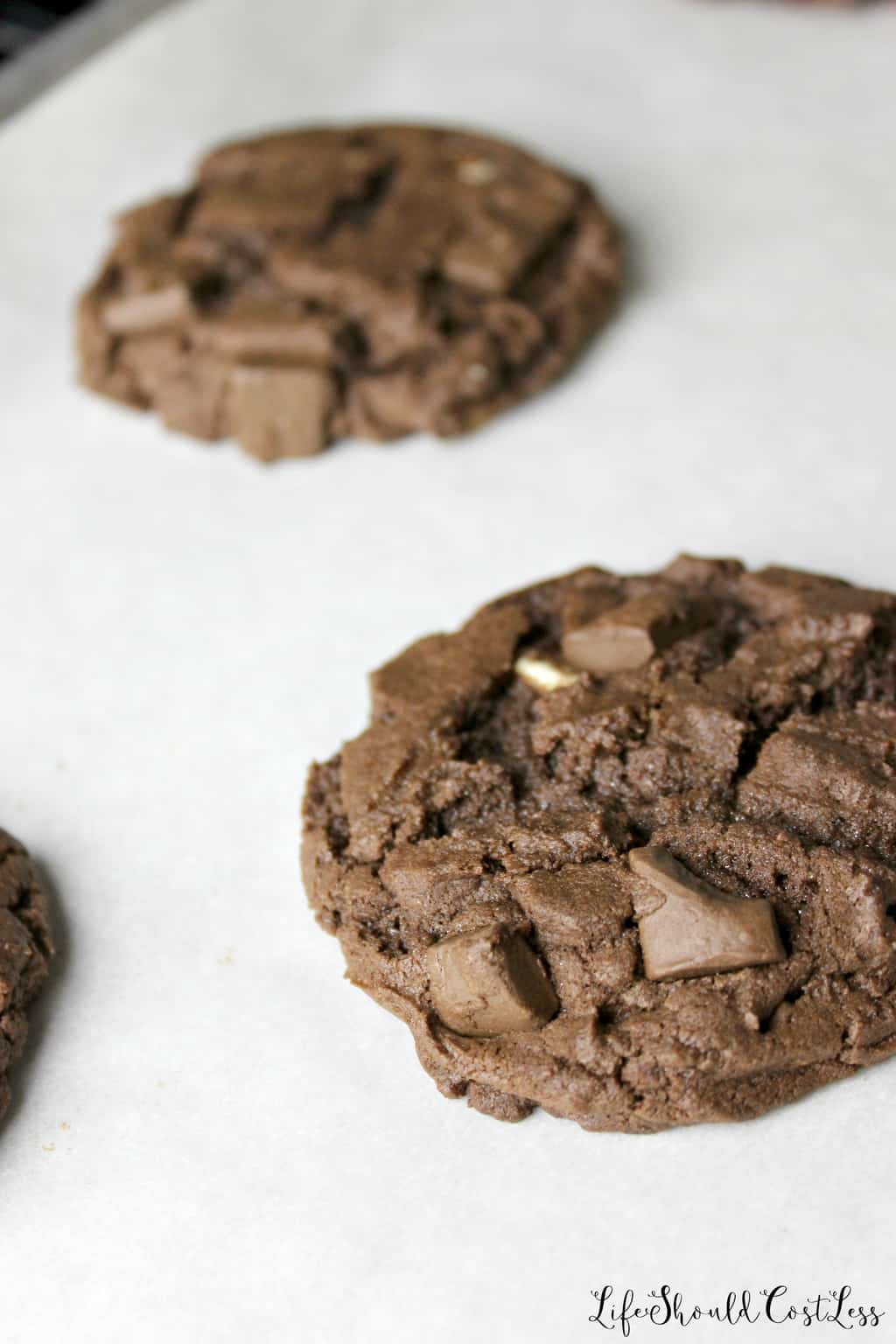 I leave the cookies on the cookie sheet for two minutes before transferring them to the cooling rack…it makes them have the best texture.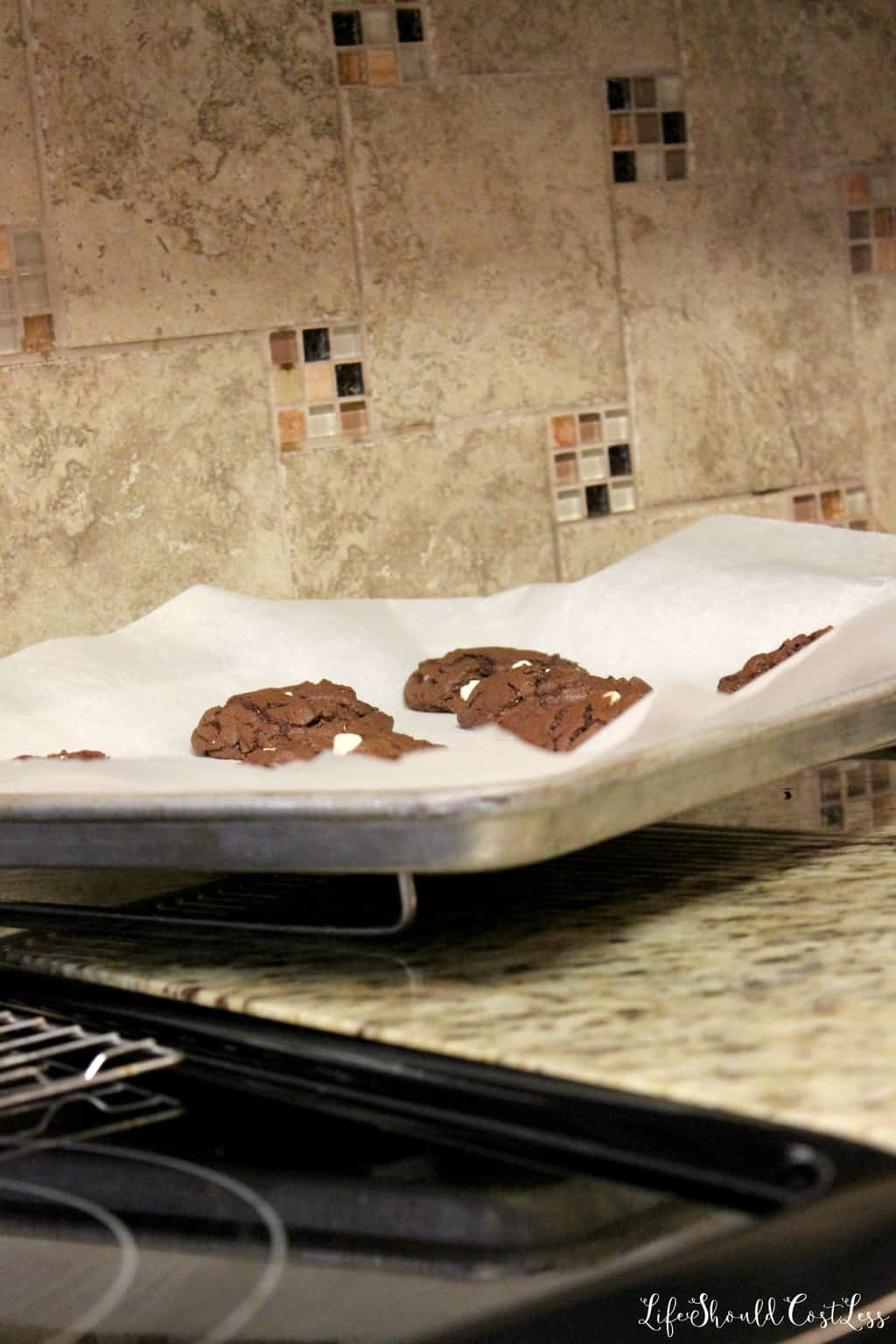 Let them cool a few more minutes and they're ready to share. If your kids are like mine, they are already trying to pull them off the rack the second that they get there (don't mind my cooling rack looking dirty…it's waterspotty after coming out of the dishwasher and I was too tired to scrub it down just for this tutorial).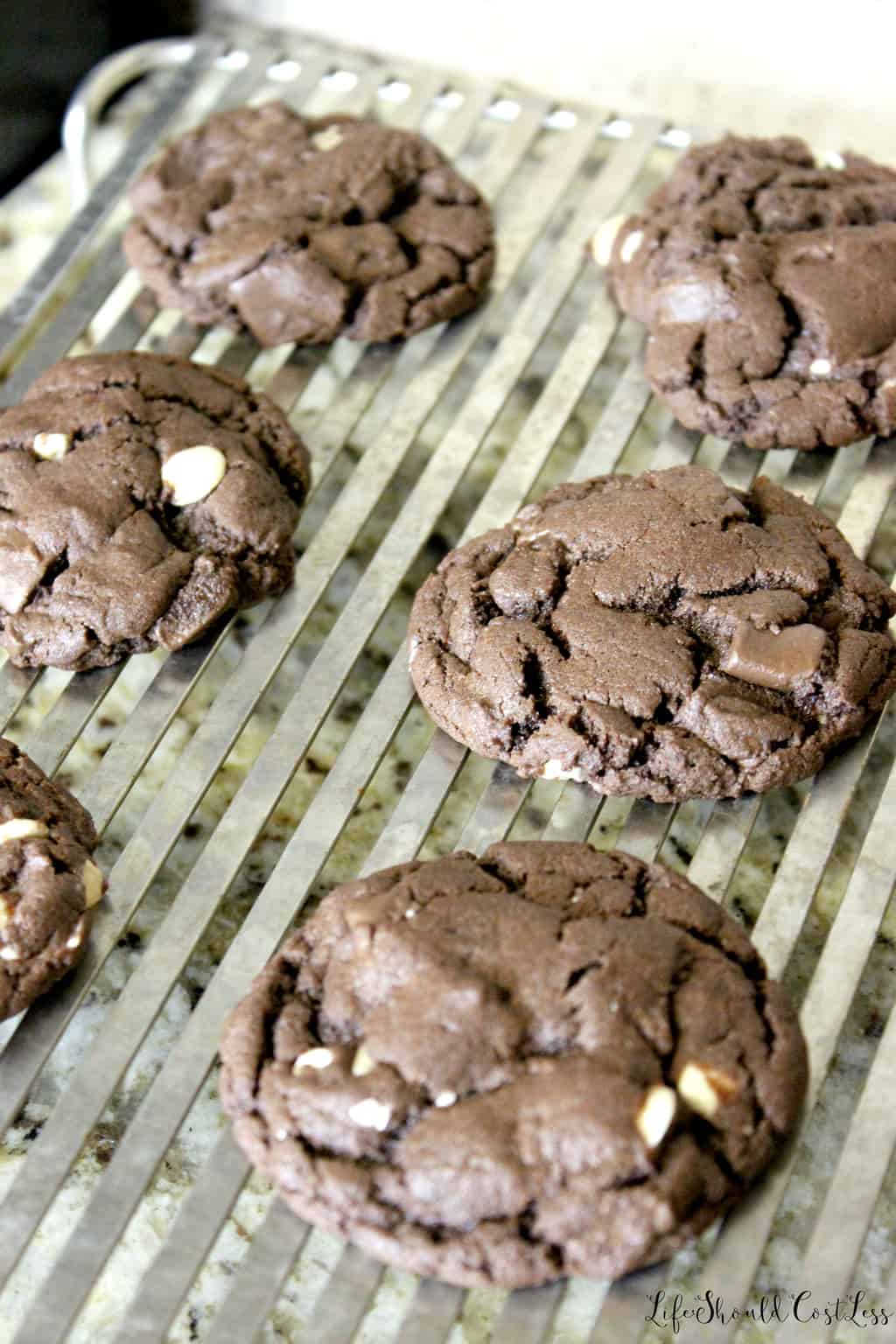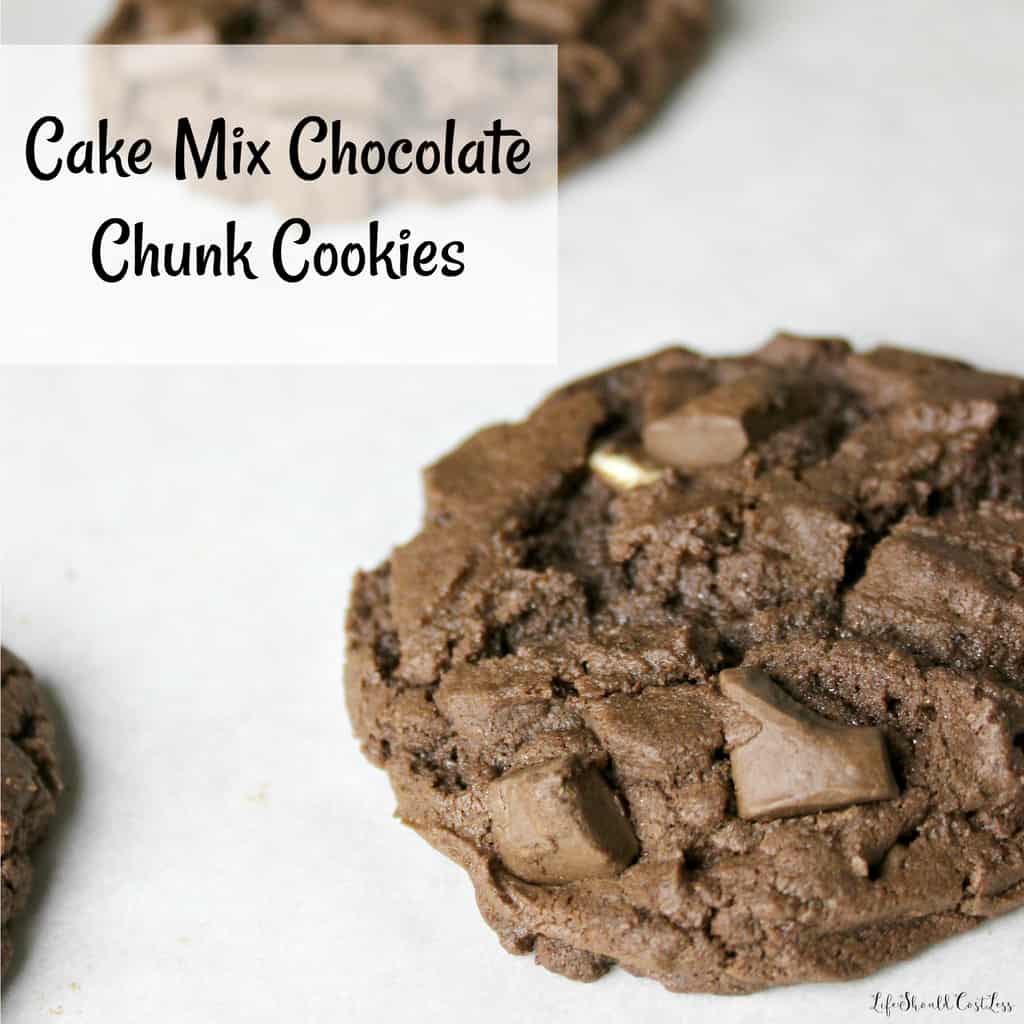 Cake Mix Chocolate Chunk Cookies
Author:
LifeShouldCostLess.com/ Carla
Ingredients
1 Box Devils Food Cake Mix (dry)
½ C Butter (melted)
1 Large Egg
2 tsp Vanilla Extract
1&1/2 C Chocolate Chunks (or chips, I use semisweet)
¼ C White Chocolate Chips
Instructions
Preheat oven to 350 degrees Fahrenheit.
In a large mixing bowl add cake mix, butter, egg, and vanilla.
Mix well.
Then add chocolate chips and mix well.
Drop by cookie scoop onto parchment paper lined baking sheet.
Bake for 12 minutes.
Leave on baking sheet for two minutes before transferring to a cooling rack.
Notes
These cookies may taste even better if you added ½ cup or so of crushed walnuts.
What did y'all think? They're super tasty right? They remind me a little bit of my Spicy Chocolate Crinkles so don't be surprised if I create and post a cake mix version of that recipe before too long as well.
If you liked this recipe, please make sure to share this post via social media! You also have the option of making a direct donation to the website by means of my PayPal account, if you feel so inclined. Either way, thanks so much for helping me support my kids! Oh, and don't forget to make sure that you are subscribed to my email list so that you never miss a post. Thanks again! ~Sarah
P.S. If you liked this recipe stick around and browse through my Sweet Tooth section.