This is one of those "it could happen to you" posts, that I am writing to give you guys fair warning because it happened to me. It may sound stupid, but losing my Facebook account was the biggest electronic devastation I have experienced so far and it actually makes me want to bawl like a baby. What the heck am I even talking about? Well, it all started a couple of months ago when someone created two false Facebook accounts using my profile image. I had my friends request that the accounts be removed for impersonation, but somehow my real account got removed in the process. Since Facebook does not have technical support beyond sending in a request and then waiting days to hear anything back via email, and it has been over a month of me repeatedly trying to get my account restored, I'm about 99% sure that I will never get to see my old account again.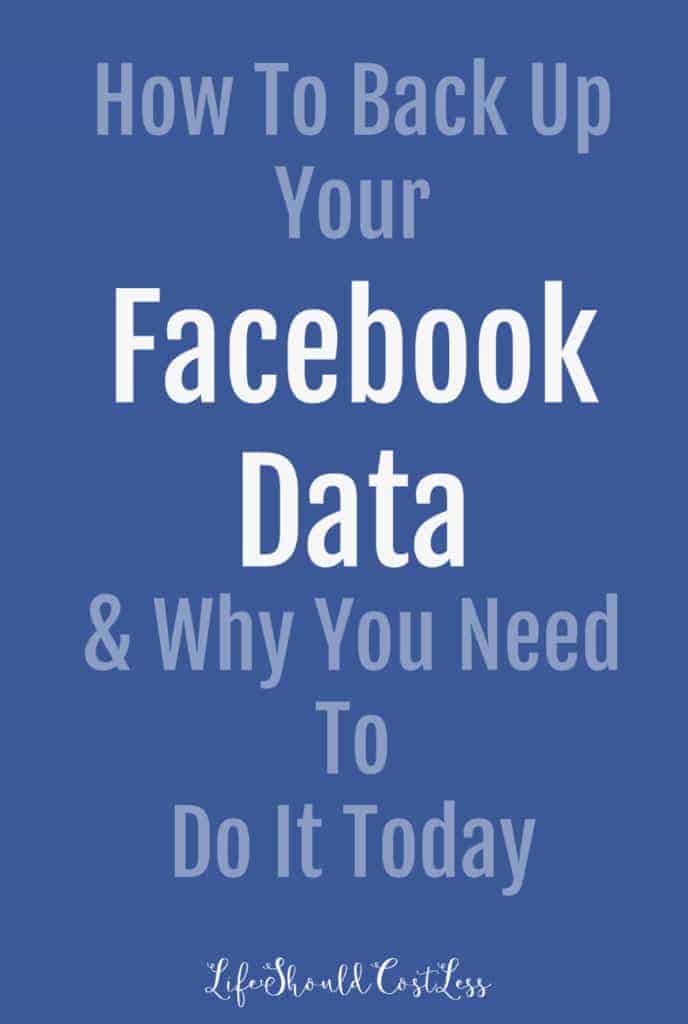 Why is it such a big deal to me? Well, if you consider that I opened my account in 2008 just before I had my oldest child, that is nine years of pictures and videos and conversations that are just gone. The conversations that I had with my closest cousin before she died…gone. The sweetest video of my grandpa's laugh, a laugh that I will never get to hear again because he passed away a few years ago too….gone. All of the milestones for my kids that were uploaded with old phones that I no longer have…gone. Not to mention that my blogs Facebook page was attached to that account and I had been growing that following for the last six years…it's gone too (It was only like 3,500 or so people, but it is really cutting into my influence and income).
I'm totally crying as I'm typing this because I am a sentimental schmuck and I have also been electronically cut off from family and friends for the same past month (this month was crazy hard on its own, I really didn't need this to add to my problems)… and I don't think there is anything that I can do about it. It may be just electronic data, but when you sit back and think of all that you have to lose… you better believe that you're going to want to back it up as soon as you possibly can. I don't want anyone else to feel the way that I have been over this, so I am sharing with you all how to save your data by backing it up to your computer. Luckily, it's a super simple process and I am going to give you the steps in a series of screen shots (which you should be able to click on to view larger if you need to…or rotate your screen and zoom).
These instructions only apply to accessing a Facebook account via desktop…but here goes.
Click on the little arrow pointing down in the top right corner.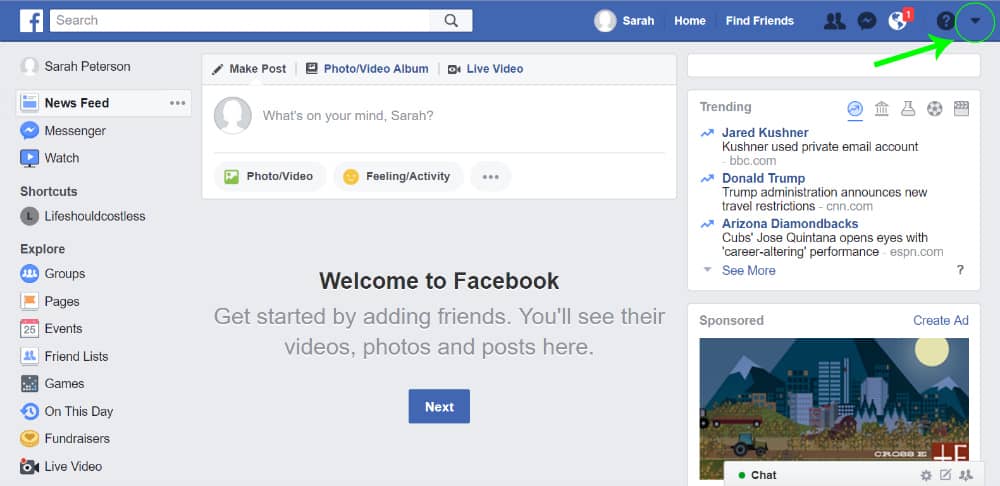 Drop down in that menu and select "Settings".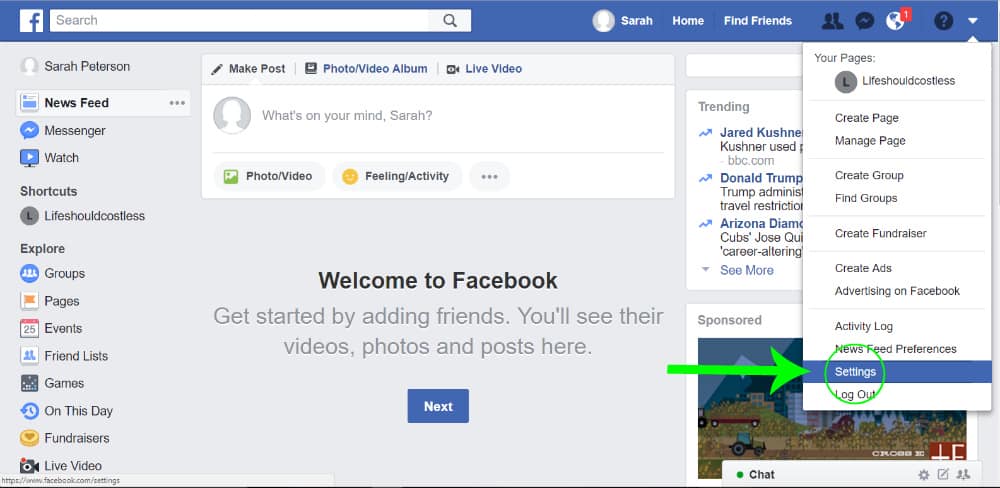 Click on "Download A Copy".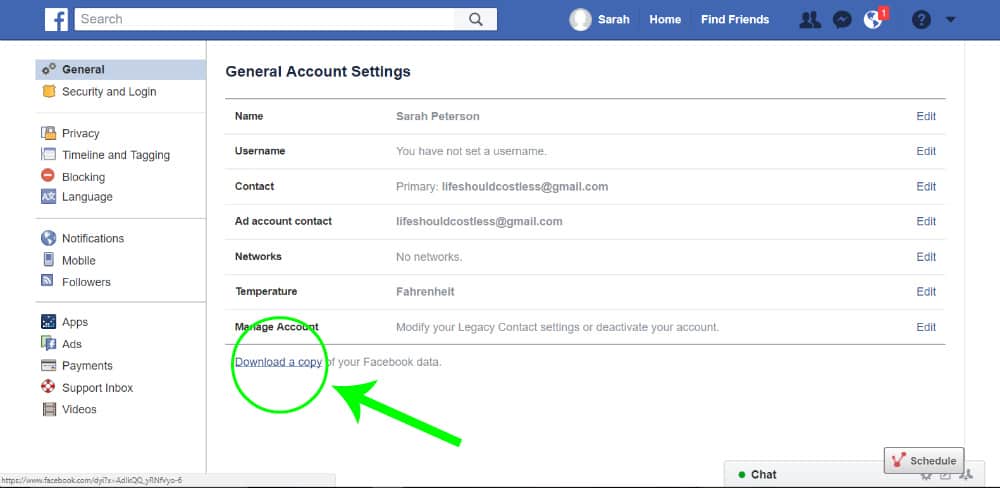 Then click "download archive".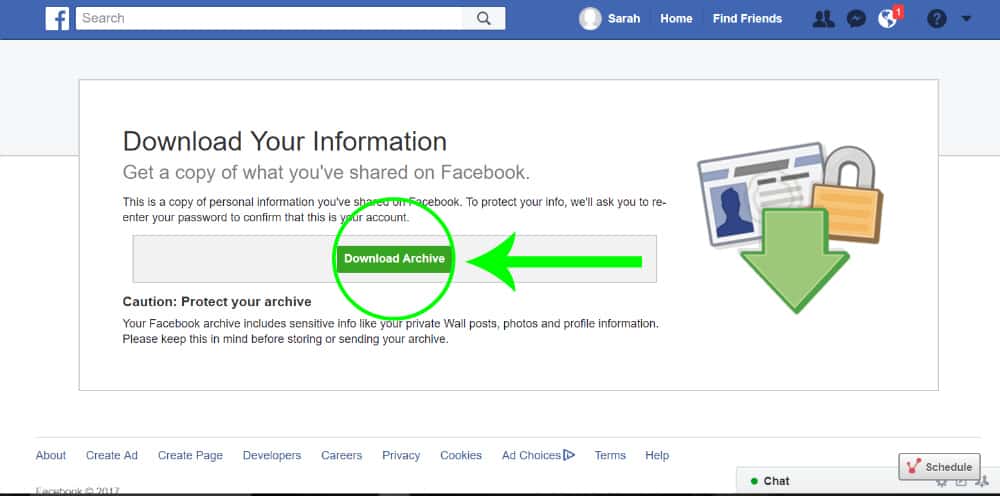 It will then ask you to "re-enter your password" and then click "submit".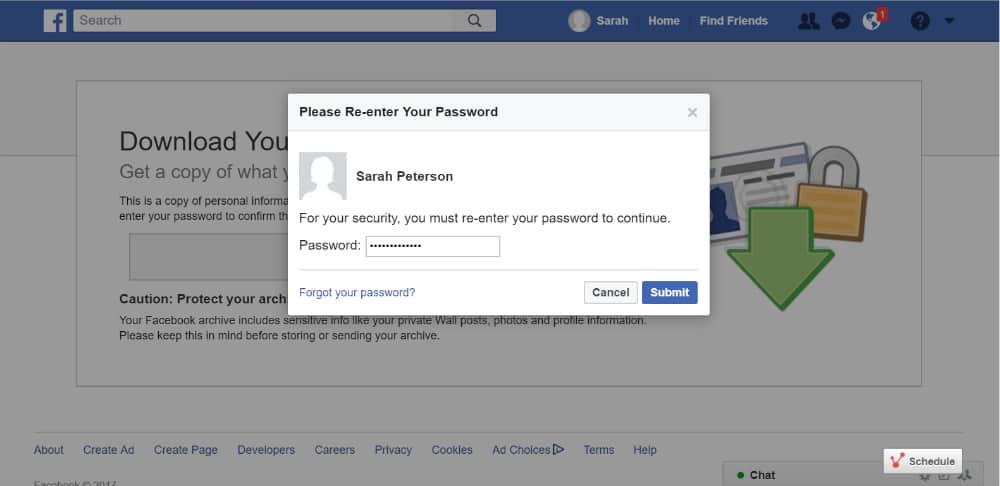 Once you click submit, Facebook will send you an email stating that they are preparing your data for download. A little while later you will get a follow up email that has a time sensitive link that you can click and it is the data ready to download. That email will give you any other directions that you may need, but make sure to back it up… or even twice if it is really important to you, not just to your computer. Then it may be a good idea to put a reminder in your phone to do it again every three to six months so that worst case scenario you would only lose a few months of data instead of all of it…
In order to show you guys how to do this I had to create a new Facebook account… I don't even know if I should just accept what happened and move on and start over, or if I should continue to be patient and keep trying to restore it, talk about a cross roads. If any of you have connections with someone that works for Facebook and could help me get my account restored I would be eternally grateful! Especially since I need to quadruple my income to have any sort of peace of mind over the next couple of years while I prepare for some really hard times. Grrr! Life! Luckily the good times make the hard times worth pushing through. Sorry to be such a downer in this post, but please please back up your data and share this post with your friends so that it doesn't happen to them either. Have a great day everyone!~Sarah