Hi there! Join Sarah on Facebook and Pinterest to keep up with what's new at lifeshouldcostless.
If you haven't noticed already, I sure love Agave! Yes there are even healthier natural sweeteners out there, but this is one that sweetens so well but doesn't usually leave a weird taste like many others do. Plus it's much cheaper than raw honey or real maple syrup, my other two "go to" liquid natural sweeteners.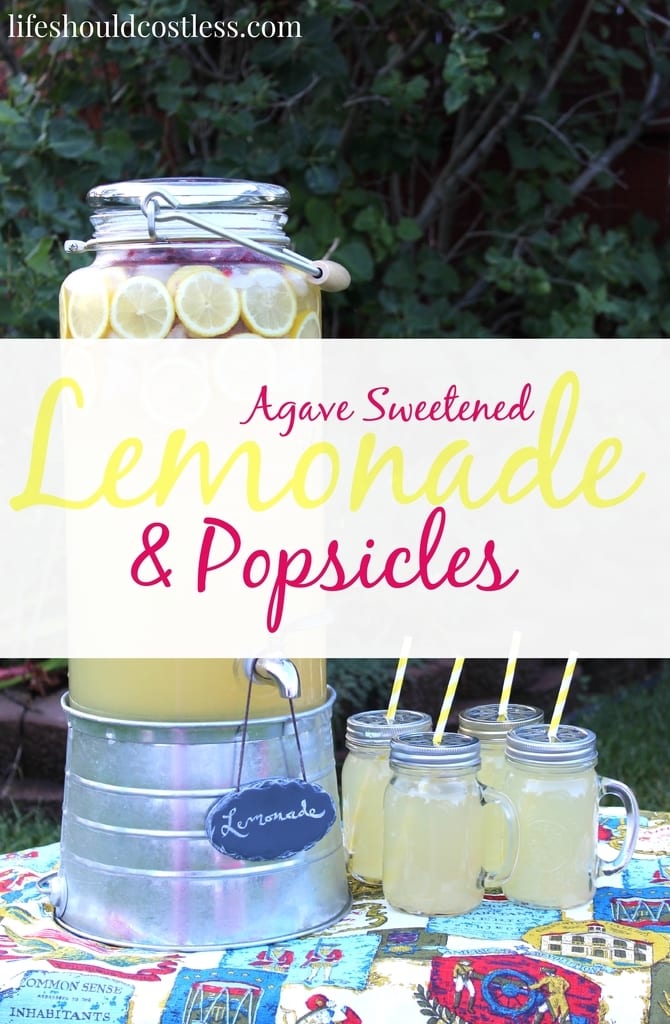 I have been playing around with a recipe for traditional lemonade and was able to figure out just what ratio's I like to swap out the processed sugar. I even accounted for the ice melting and watering it down a bit, so that it is just right!
In a large pitcher add the following:
1 & ½ Cups Lemon Juice
1 & ¼ Cups Agave (or less if you prefer)
11 & ½ Cups Cold Water
Stir well. Add ice and serve. I like to garnish the sides with lemon slices and pour a cup or so of frozen raspberries into the top. You can also stir the raspberries in for some delicious raspberry lemonade.
This makes great Popsicles
, so just stir it up and pour some into a
Popsicle Mold
for a healthy summer snack that the kids will be begging for more!
*For staging my pictures I had to 2.5X the recipe so that it would fill my awesome drink dispenser. I bought it because I am totally obsessed with mason jars, and it is glass, and reminds me of a huge mason jar.
I found it here!
I like it so much, I plan on buying a second one so that we have the option of both a flavored drink and water when we throw a party.
If you want to get your lemon slices to look like this, add your lemonade first, ice second, lemons third (just slide them in at the edges of ice and the ice holds them in place), then your optional raspberries. You could always mix the raspberries in before adding the ice too.
This is what it looks like all mixed together. YUMMY!
Follow along:



You may also like: