Wow! When I told you all that I wanted to start doing my own product reviews, I sure meant it. However, I did not mean to do it semi-annually. Sorry, I just realized that my last review was in OCTOBER. How did that happen? The months have just been zooming by.
Anyway, on to the product I'd like to tell you about today.
Cardinal Gates Door Guardian
.
Basically it's just a heavy duty lock that you put high on the door and
it is a great child-proofing tool
. On to the actual review about it.
Cardinal Gates Door Guardian on the front door. I think that I would have put it a couple of inches lower if I were to do it again.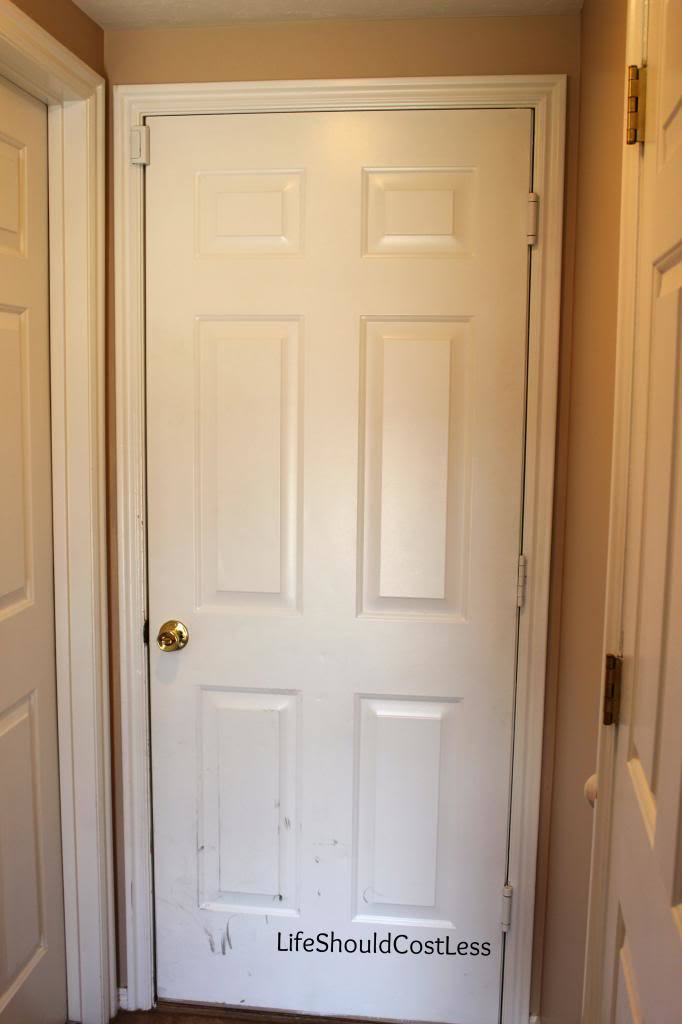 This is our Cardinal Gates Door Guardian on our door leading out to the garage. Scuff-marks and all. I need to decide whether we are going to replace all of our doors or just paint the ones that we have…many need replaced so we may just go with the ones that I really want.


Why I bought it in the first place:
Shortly after we moved, my husband had to do two of out of town trips for work. Well, with me being a
nervous nelly
to begin with, and then adding new surroundings to the mix I was pretty anxious (
THE ENTIRE TIME HE WAS GONE
). The first trip he went on was only a couple of days but I kept worrying that our kids were going to get out of bed in the middle of the night and run off because our front door only had a single dead-bolt and that was it. There isn't even a lock in the doorknob…which is really odd. I was also nervous that someone might use a bump key and let themselves into my house, even with our camera security system ;). With how worried I was with the first business trip, I knew I wouldn't make it through the next one if I didn't do something about the stress. So, I did a little research and found
this product
on Amazon, and with the help of good reviews and it looking pretty heavy duty I went ahead and bought two. One for the front door and the other for the door leading to the garage.
Will it save me money/ headache/ stress?:
I can't even express the difference I had between the two trips. It was night and day. No longer being in so much fear sure made life better. Not only that, but these locks even work when my kids stack a step stool on top of a chair to try to open the door. They require a little bit of force to open, which is more than my naughty five year old can manage, so it really is kid-proof. As far as my fears about someone using a bump key…well, these things are so heavy duty that I doubt any pair of robbers would be able to make it budge. According to the ad for the product, they can withstand 12X that of a deadbolt…so between the two (the dead bolt and the guardian) I think we are covered. I bought mine in September and I have been very happy with them.
*Don't worry, I've talked with the girls about what to do if there is a fire and they need to get out of the house, they know the plan.*
What are the options when wanting to buy one?:
These locks come in five different finishes. White, Antique Brass, Brass, Satin Chrome, & Satin Nickel. They usually range in price from $18 to about $22 depending on the finish you choose. I'm hoping that they some day add Oil Rubbed Bronze to the selection, but white is pretty universal so that is why I went with it (plus at the time I wasn't sure what colors we were going to be re-doing everything in the house with).
Tips/Tricks with this product:
I will say that I didn't really understand how it worked at first and it was a little hard to open (which is another reason it's hard for kids…you don't just flip it). All you have to remember is that you slide it to the side, away from the door jam that it is currently in, and then pull it towards yourself (If it is installed on the right door-jam slide it to the left, if it's on the left door-jam slide it to the right). It's not rocket science, it just takes a few tries to get used to it. As far as installation hang-ups go, I'd say that the only issue I had was because I didn't have a good drill so it kept stripping the screws. This can be avoided by drilling a good pilot hole before you try to drive the screws. Also, using a high quality drill would help ;). I don't recommend trying to just use a screw driver or you will be there all day because the screws are LONG.
How many stars do I rate it and why?


I can honestly say that I give this product 5 stars. It is one of the very few products that I have ever been this happy with. Yeah it was a little hard to learn how to open, but I'm not going to ding the product because I was being special. It has provided me with so much peace of mind I would pay $100/each for them and that is saying a LOT considering how frugally minded I am.
So, if you are worried about your kids wandering off, someone trying to brute-force their way into your home, or if you'd just like a little peace of mind while a spouse is working a night shift or out of town…you need these locks too!